Today I want to share a couple of Etsy shops with you. I won a giveaway that included credit to both of these shops, and I was absolutely blown away by the quality of the items I received!
This shop is run by Katie of Raising Oranges: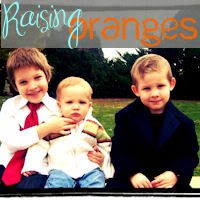 I chose to get three of her mini crayon rolls: one for Carter, one for Vanessa, and one to keep on-hand as a gender-neutral gift!
Katie sent a cute thank you note along with the crayon rolls, and lots of business cards! I love the way she packaged them, and the designs are adorable. I got the robots for Carter and the flower/polka dot print for Vanessa. The rainbow stripe one we'll keep to give as a gift sometime.
Here is what they look like with crayons:
I'm dying to give them to my kids, but they are so perfect to use as stocking stuffers, or as an Easter or Valentine's Day gift, that I'm saving them! They will probably be stocking stuffers, since Christmas is the next big holiday!
Oh yeah, and they are only $4.50 plus shipping! Definitely a great deal! Thanks, Katie!!
Next up: Kelly makes the most adorable bags and wallets, some even customized with photos! The item I chose from her shop was the "Chalkboard Art Activity Children's Messenger Bag" in a cupcake print:
The bag's flap, which has a hidden magnetic closure, opens up to reveal a soft chalkboard surface underneath!
It came with the little eraser in the pocket, and it has places to put chalk next to the eraser. Plus, there is a whole compartment for coloring books, toys, and anything else you want to put in there!
This bag is crazy adorable, and the quality is fantastic! It is also going to be put away for Christmas or Vanessa's birthday, and it will be a great gift! I can't wait to give it to her! Thanks, Kelly!!
So go visit these two shops and show these ladies some love. They are doing some really fantastic work, and you don't want to miss out!!
Thanks for reading!