Linking up at Mom2MemphisAndRuby today for a top ten all about shoes!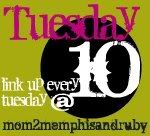 Here are my 10, in no particular order:
Got these babies recently from Old Navy. They are crazy comfortable and go with everything! I'm very into gray lately!
These obviously-much-loved shoes are from forever 21!
From Cents of Style- super comfy and add a pop of color to any outfit!
Another recent Old Navy purchase. Anything nautical belongs in my closet.
Wow, shiny picture! Cents of Style
Here come the heels! From Cents of Style!
The "Maneaters"- super sexy. Also Cents of Style (hey I get a nice discount)!
Nadine heels- guess where I got them?
Brooke heels- I like to wear these to church because I sit for most of it! Cute and very high! From, you guessed it, Cents of Style!
And lastly, my spectator collection! The first pair is a low heel from Cents of Style, the second is a higher pair of swing dance heels, and the last pair? Tap shoes!
Now it's time for me to go link up and check out everyone else's shoes!