Linking up at Mom2MemphisAndRuby again!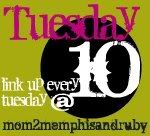 Today I'm listing some of my favorite
embarrassing
 totally awesome movies!
Saving Silverman: One of the funniest, most underrated movies ever. Actually I don't know how underrated it is because I just happened to find it in a movie store years ago. It is hysterical. See it.
Forrest Gump: Not really an embarrassing pick- what's not to love about this movie?!
Head: A movie the Monkees made which is totally unlike their television show. It's really tripped-out, but somehow manages to come full circle and make total sense…kind of.
There's No Business Like Show Business: This has been repackaged as a "Marilyn Monroe" movie, but it also stars Ethel Merman, Donald O'Connor, and Mitzy Gaynor, and it's great. A must see for musical theatre fans.
The Shining: Nope, not even the Jack Nicholson version. The made-for-tv version includes some horrifying displays…of acting. But it's truer to the book.
Tommy Boy: "Did I catch a 'niner' in there? Were you calling from a walkie-talkie?"
Swing Kids: Fans of Christian Bale have probably seen this, but other people probably haven't. It's over-the-top dramatic, but there's some cool dancing scenes.
Scary Movie 3: This one I always need to defend because I didn't find either of the first two Scary Movies very good, but this was directed by the same guy who directed Airplane, and it is hilarious. It parodies The Ring, Signs, 8 Mile, and The Matrix, among others. "Look. What happens. To the taco… You mean, down the middle?"
Billy Madison: Yeah, I am from the "Chris Farley, David Spade, Adam Sandler, etc" generation. And it was awesome. And you can't go wrong when giant penguins are involved.
Josie and the Pussycats: This came out the summer I was 17, and I cut my hair like Josie's. The movie is actually really fun, and it's worth watching for the unabashed product placement (which is overdone on purpose) and the star-studded cast. The soundtrack is pretty great too.
Now I want to go watch all these movies! Someone get me some popcorn!