I hope that I'm teaching my children to be good people.
Today when we were leaving Target, I put the kids in the van and then turned around with the cart to find a cart stall to put it in. An older couple was walking past, and the lady offered to take it from me, to put it away as they went inside. So nice, right?!
I got in the car and the following conversation ensued (wish it could be verbatim, but it's as close as I can remember):
Me: Wow, there sure are some nice people in the world.
Carter: Why?
Me: Because they were raised right. Their mommies taught them to be nice. Because being nice to people is the most important thing in the whole world.
Carter: Which mommy said that?
Me: Your mommy is saying that to you right now. You should always be nice, because that is the most important thing in the world.
Carter: Why?
Me: Because that means you are a good person.
Me: Jesus said that whenever you do something nice to someone else, it's just like you are doing something nice to Jesus or Heavenly Father.
Carter: Oh that's good! I love them!
(wait for it)
Carter: …The other most important thing in the world is that when you are eating something cold outside, and it's hot, and you are in the shade, it cools you down.
Me: Carter, you just wrote a blog post for me.
Linking Up!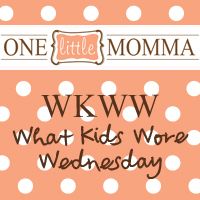 On Vanessa: Dress- Tommy Hilfiger, Shorts- Children's Place, Sandals- Walmart
On Carter: Shirt- Gymboree, Shorts- Carter's, Shoes- Famous Footwear (and on the wrong feet!)