Welcome to another edition of…
Today I am linking up with: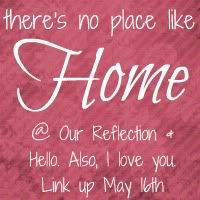 Can't wait to snoop around in everyone else's homes! I love to see how other people design and organize their homes, and I'm sure I'll want to redo all my rooms from all the inspiration!
Today I am sharing my before-and-afters of my living room and den. I'm also going to link up an older post of the nursery.
Welcome to my home!
My Living Room
Before
After
Before
After
Before
After
My Den
Before
After
Check back another time for the kitchen and master bedroom!
Thanks for stopping by!