Only six more school days until I'm FREE! (insert hysterical laughter here) While I'm up to my ears grading tests and papers (um…200 of them), I'm going to let Leslie entertain you today with some of her favorite blog posts and her adorable family! Don't miss the giveaway at the end!
Hi everyone! I am Leslie and I blog over at Violet Imperfection.
My blog is a little bit of everything. I blog about being a stay at home mama, crafts, everyday life, the occasional recipe and most importantly the imperfections of life. I started my blog in hopes that I could embrace the messy of life and show my daughter Violet that being perfect is just a myth.
Today I wanted to share some of my favorite posts so you could get to know a little more about Violet Imperfection.
My recent favorite post was about Christmas Story Countdown….Attempt. Yes, you read right…attempt. My sewing machine and I did not see eye to eye on sewing 24 bags for 24 Christmas stories.
Another of my favorites is Violet's Big Day. I won mother of the year on this day. Violet fell off my bed, I brought her to the doctors to make sure everything was okay ( hello first time mama!) and once being declared a-ok, asked the doctor to pierce her ears and give her a ton of shots. She was still smiling though!
The last post I would like to share with you is my 31 Before 31 List. I am trying to do all 31 things before my 31st birthday in September. I think gives a good idea of who I am.
I want to give a big thanks to Megan for letting me visit and I hope to see some of you over at my blog and invite you to link up to the Raising Imperfection link party I co-host on Sundays, where any type of post is welcome!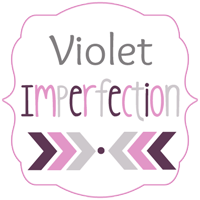 Isn't that little peanut just the cutest?! Love those family photos!
Today Leslie is giving away an ad space on her blog- 200×150 for 30 days! Enter below to win and good luck!