Well, I had planned on writing up a trip report for our recent trip to Disneyland, but then I found out that my mom already had! She is a regular poster on the disboards (official Disney forum), and that is where she posted her report. So since the work is already done, complete with photos, I am having my mom take over my blog today and share her report! It's long, but feel free to skim or read it all! Without further ado…my mom!
We recently returned from a short trip to Disneyland and a day at Huntington Beach. The main reason for the trip was, of course, Cars Land.
We knew our 3 1/2 year old grandson would love to visit Radiator Springs!
Carter turns four in August and Vanessa just turned 16 months. Fortunately, Carter just reached 40″ so he was able to ride the Radiator Springs Racers. We held our breath, though, when the Cast Member (Disney employee) measured him!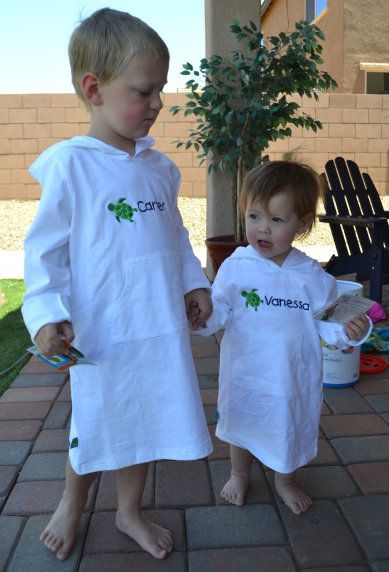 Carter is the sweetest little guy. He is our first grandchild!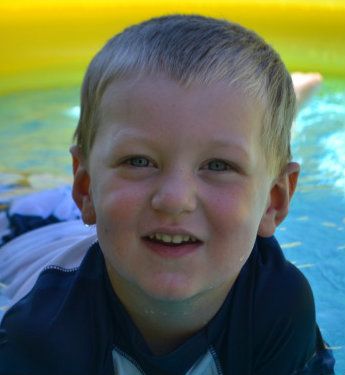 Vanessa is our second grandchild and first granddaughter. She is a sweetheart, too! Just don't try to take cookies away from her!
(Megan: My parents spent a few days at Universal Studios and Warner Brothers studios before we got there, so I'm skipping ahead in her report to when we arrived!)
After lunch we made a quick trip to Walmart. We picked up milk, water and juice to stock both refrigerators and some snacks, then drove back to the Candy Cane Inn in Anaheim.  By now it was close to 3:30 and our rooms were ready. We unloaded the car, put things away, filled the fridges, and went outside to wait for Megan, Daniel and the kids to arrive. They pulled into the parking lot a little after 4pm.
Getting a candy cane was the first order of business at the Candy Cane Inn!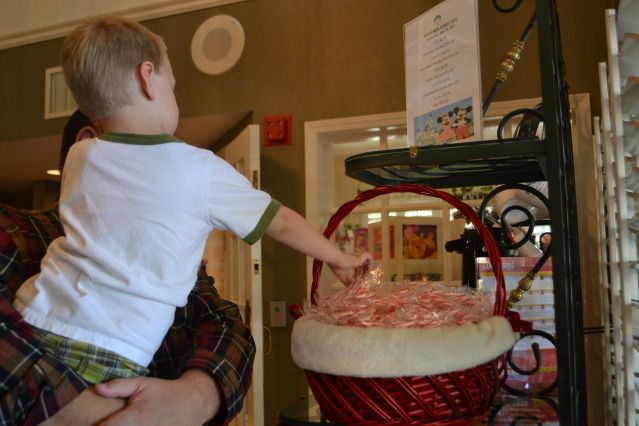 This was our first stay at the Candy Cane Inn, and we liked it very much. We had connecting, deluxe rooms on the first floor, and we were able to see the fireworks at night from our doorways!
Candy Cane Inn
You can see below how close the back of Cars Land is to the Candy Cane Inn. If you could cut a door through the wood, you'd have easy access to Cars Land!
You'll also be able to tell if the Radiator Springs Racers are up and running, because you can hear the revving of the engines as they round one of the bends in the track.
Deluxe room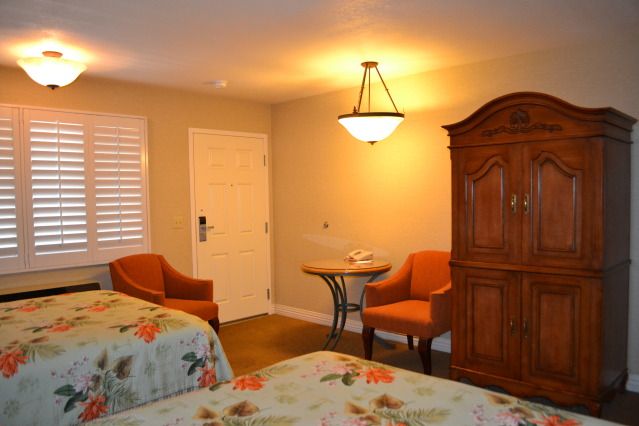 The fridge is on the shelf above the counter to the left.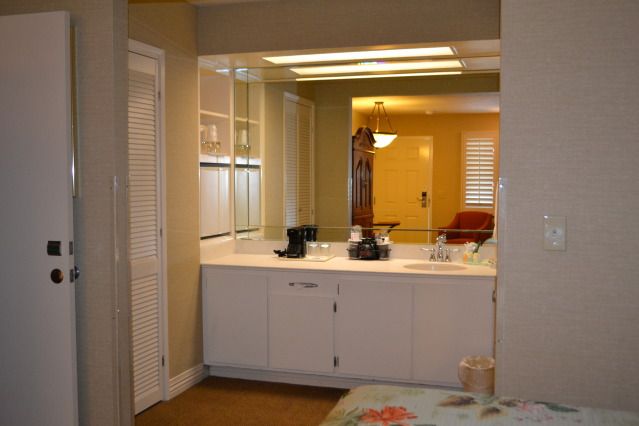 And, the bus! I didn't think we'd even use it since the hotel is so close to the parks, but there were a couple of times that we could have kissed that bus when we saw it waiting for us at the end of a long day!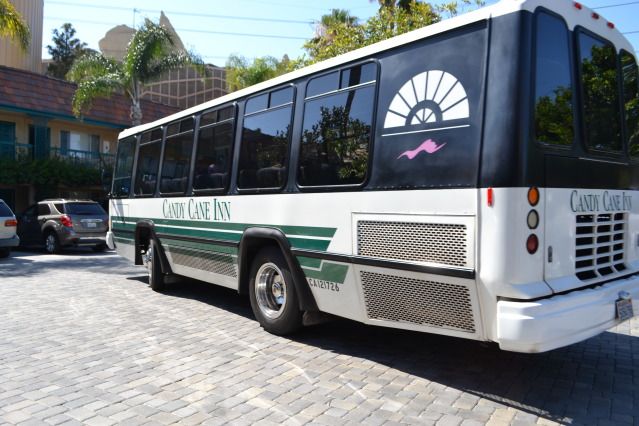 Before we left on our trip, I bought a few surprises for the grandkids to have each night when we returned to the motel. We told them that Mickey Mouse stopped by while we were gone to leave the surprises for them! The idea was to avoid spending time with little ones in the gift shops in the parks, and it worked quite well. They were always excited to know they had a surprise waiting for them back at the hotel.
Larry and I had the keys to both rooms, so before the kids arrived, I set out their surprises for the first day: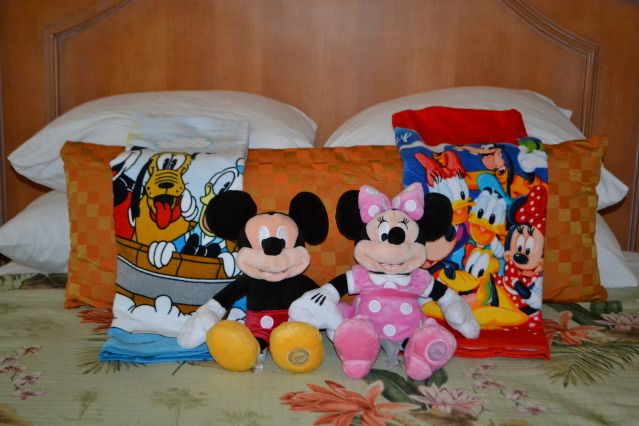 They loved their surprises!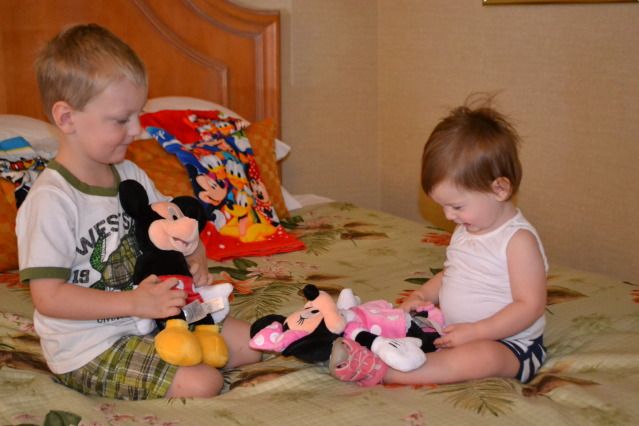 I forgot to take pictures of the other two surprises, but on the second day, Carter got a set of Cars figures and Vanessa got a set of Pooh Bear figures from the Disney Store. For the last night, they each got a beach pail and sand toys since we were going to Huntington Beach before heading home.
The kids had been cooped up in the car for a good part of the day, so Megan and I took them over to work off some energy in the kiddie pool.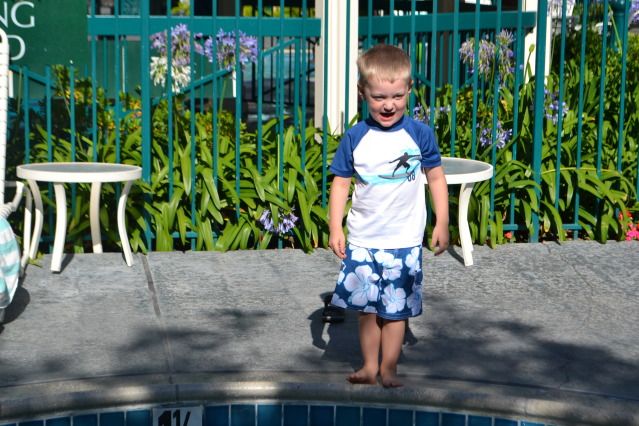 The Candy Cane Inn has a small pool for little ones in an area next to the regular pool. It's 18 inches deep all around.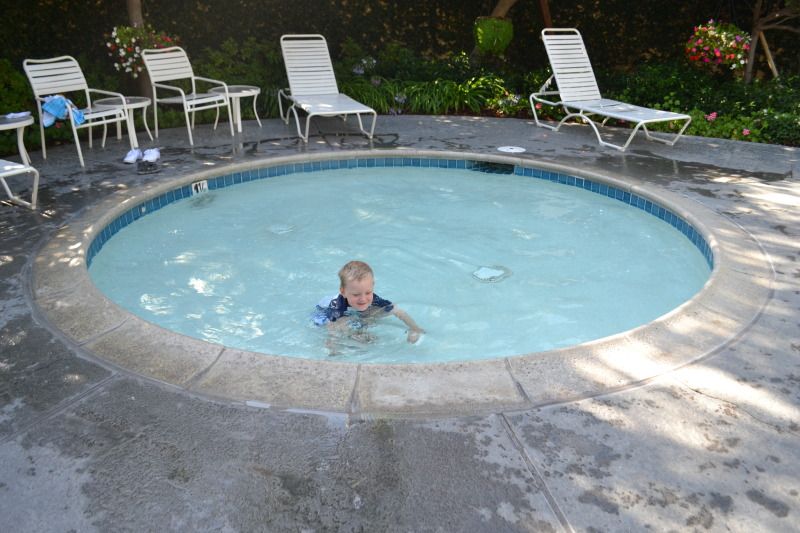 The kids had a good time splashing around.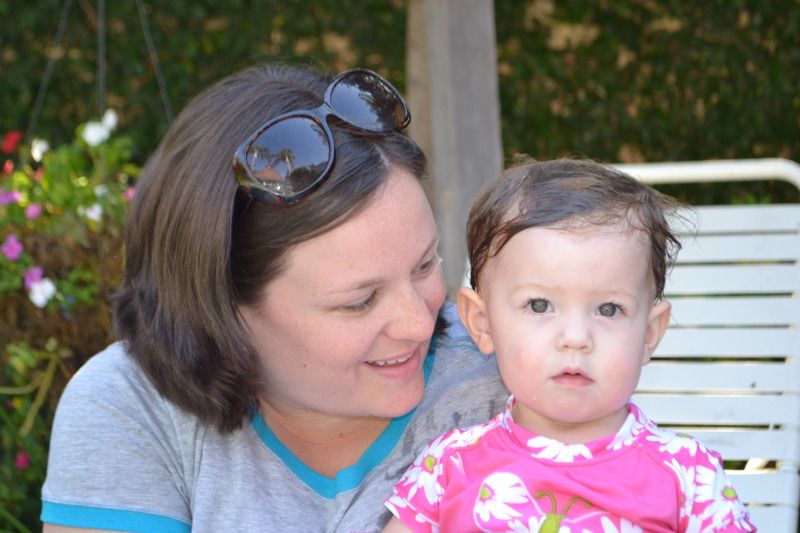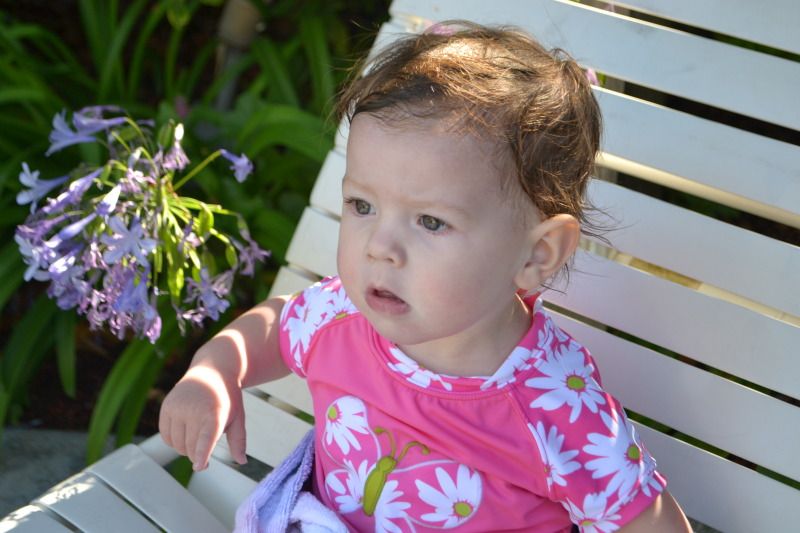 Time to dry off and get ready for dinner!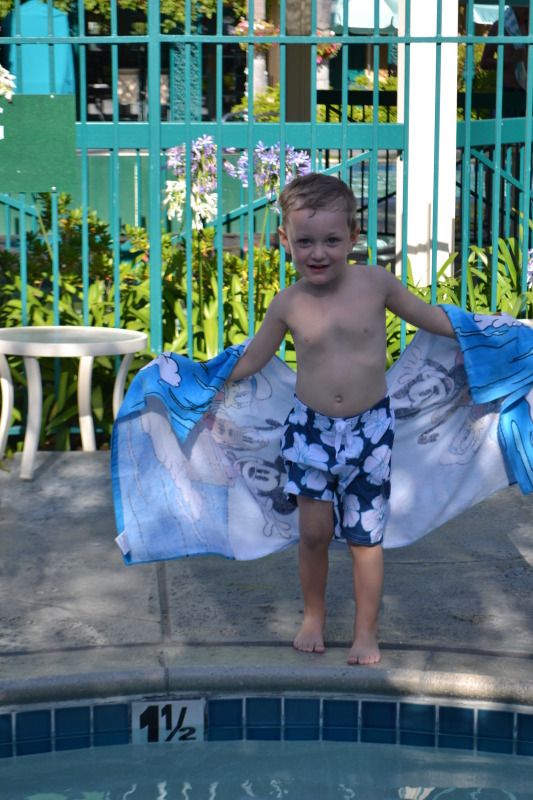 We walked over to Bubba Gump at the Anaheim Garden Walk.
Table for two, please!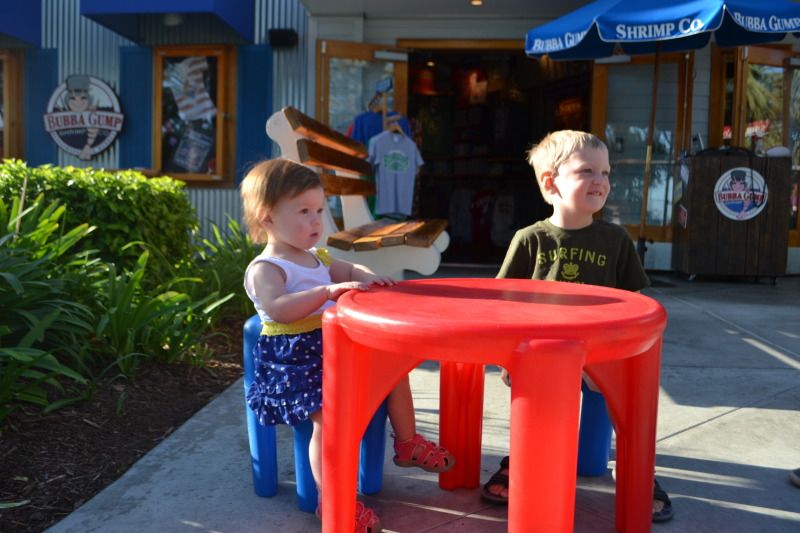 After dinner, we walked over to Downtown Disney. We enjoyed watching this guy play a variety of drums.
And Daniel and Carter built cars out of Legos and raced them.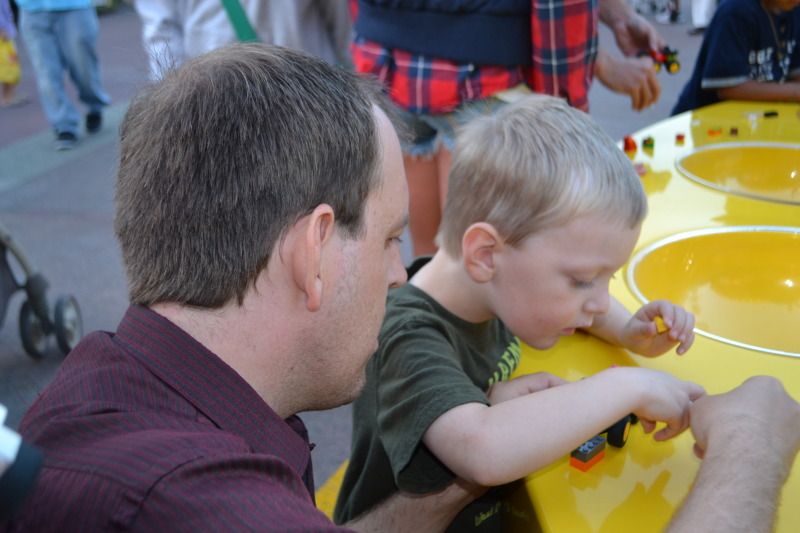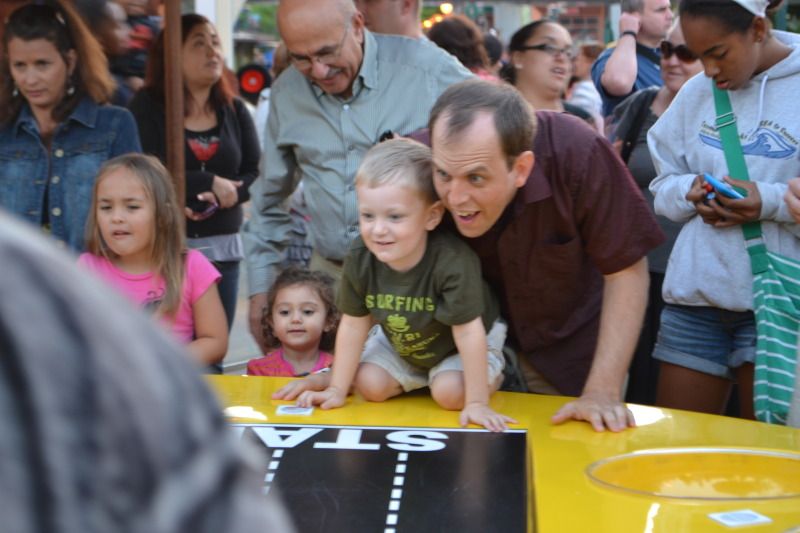 It was getting late, so we headed back to the hotel. Both kids were tired and went right to sleep without a problem. Carter was very excited knowing he was going to Cars Land in the morning! Around 9:30, Larry, Megan, and I stepped outside our rooms to watch the fireworks display.
Thursday, June 21st- We were up and ready to head out by 7am. After eating breakfast by the hotel pool, we walked over to Disneyland, got through the security check and were inside Disney California Adventure by 7:40am. There was already a crowd waiting inside the park, and there was a long line to the left for fast passes for the Radiator Springs Racers. Our plan of attack was for Larry to head over to the fast pass line with all our tickets while the rest of us would head straight to Mater's Junkyard Jamboree as soon as the crowd was set free.
Happy baby!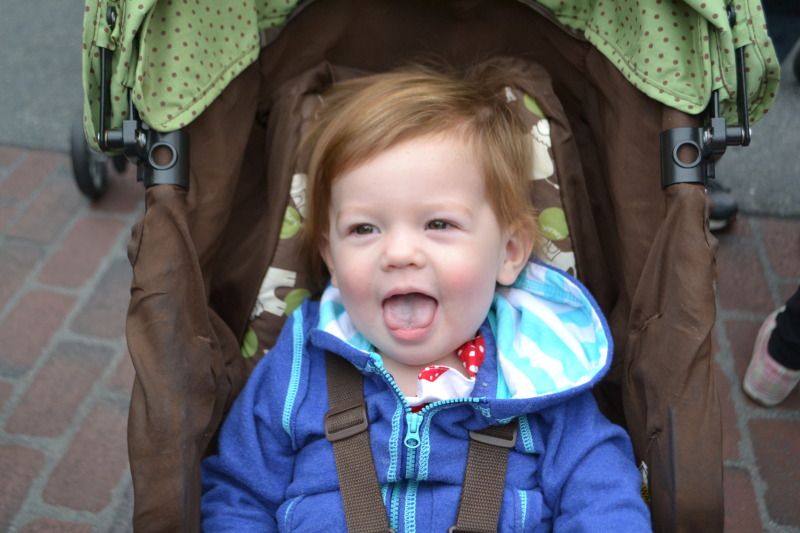 Studying the park map.
Here it is! It was so exciting just to see the signs!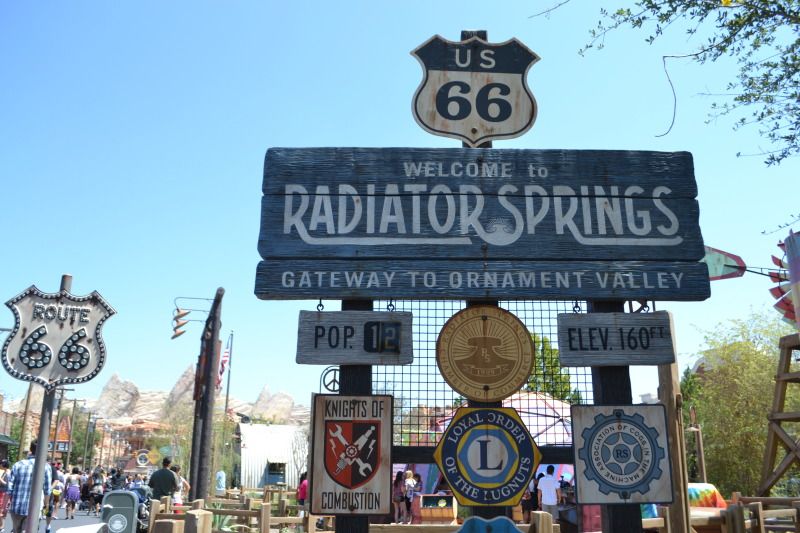 We got to Mater's a little after 8 and the wait time was 20 minutes. Megan, Daniel and Carter got in line and Vanessa and I went to find a good spot to watch and take a few pics.
I tried to get some good pictures of them on the ride, but I was holding Vanessa and trying to balance my camera at the same time. Not easy! Carter loved Mater's Junkyard Jamboree! And I think I had just as much fun watching them!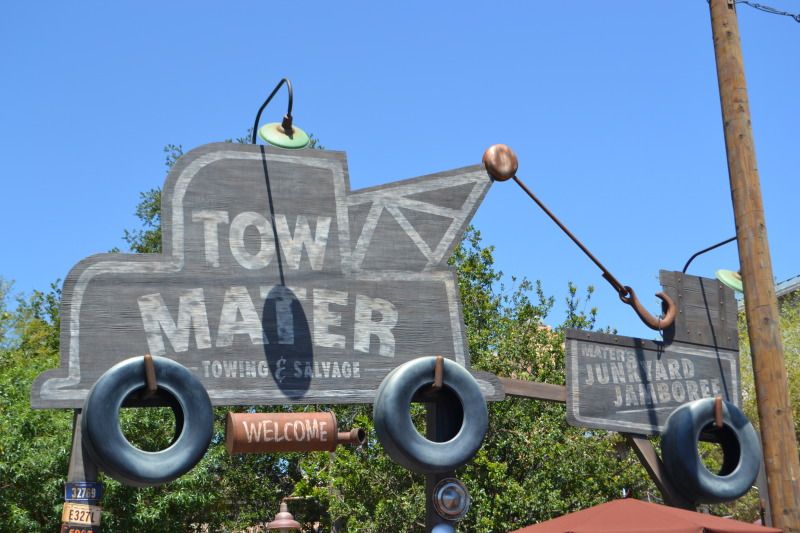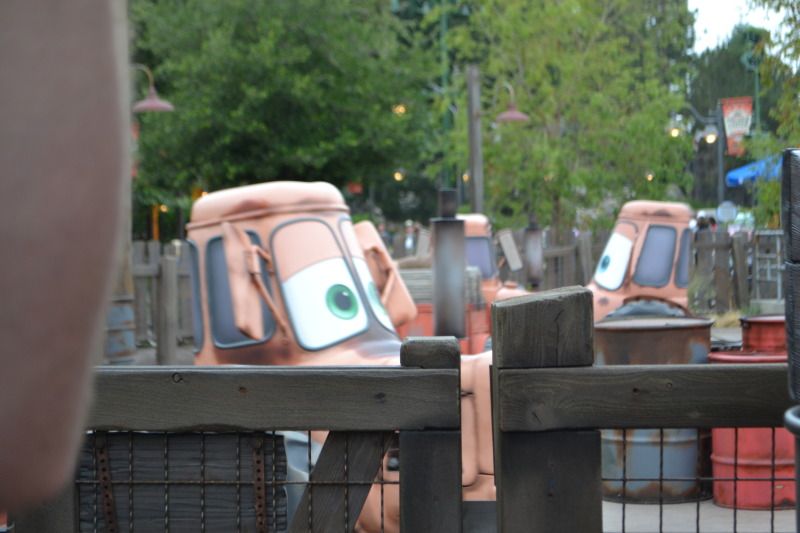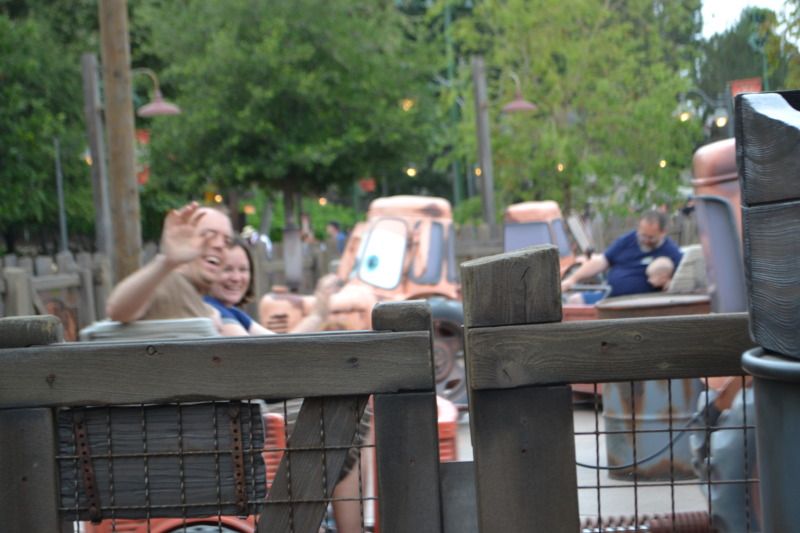 It's a peppy little attraction with catchy tunes sung by Larry the Cable Guy (Mater). It's one of the first things you see and hear as you enter Cars Land from the end of Buena Vista Street. It's fun just watching everyone on the ride. Lots of laughter and smiling faces!
We were just putting Vanessa in her stroller after the ride when Larry joined us. He had five fast passes for the Radiator Springs Racers with a return time of 12:55-1:55. Woo! Hoo! Within an hour or two of the park opening, the fast passes for the Racers were sold out for the day.
As we were getting ready to head over to the Cozy Cone Motel to meet Lightning McQueen, a cast member came up to Carter and asked his name. He told her, and she said she thought he was the Carter she was looking for. She said Mater told her to be looking for a little boy named Carter wearing a red shirt and to be sure to give him a special button from Mater.
Carter thought that was just the neatest thing ever! He said he KNEW that Mater knew he was visiting today!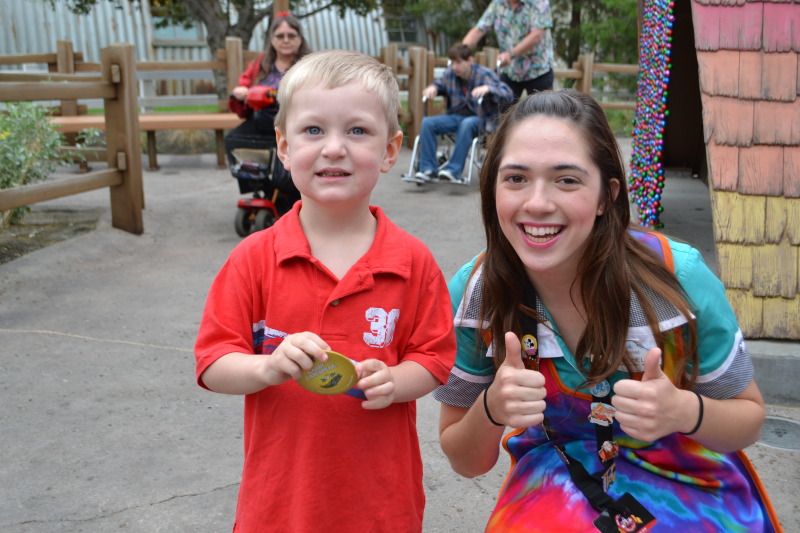 Not far from Mater's ride is the Cozy Cone Motel, and that's where Lightning McQueen and Mater take turns meeting and greeting guests. McQueen was there so we got in line. When it was Carter's turn and he walked in front of the car, McQueen asked if Carter was "detailed."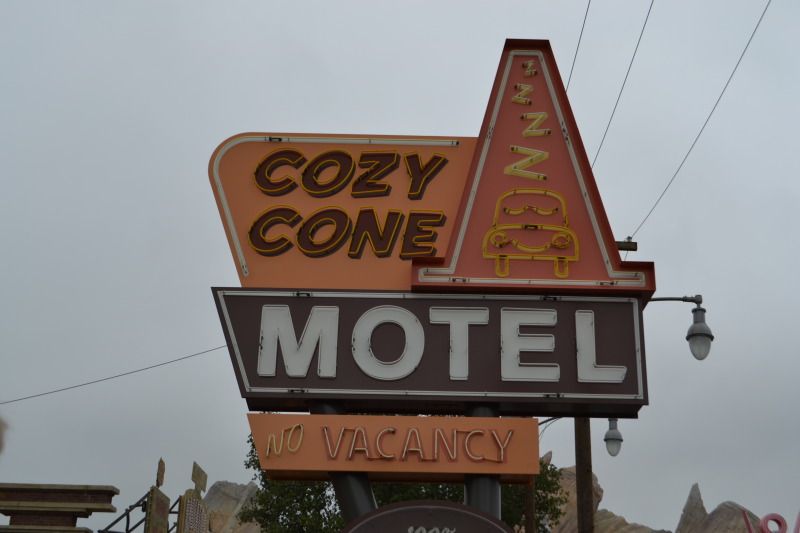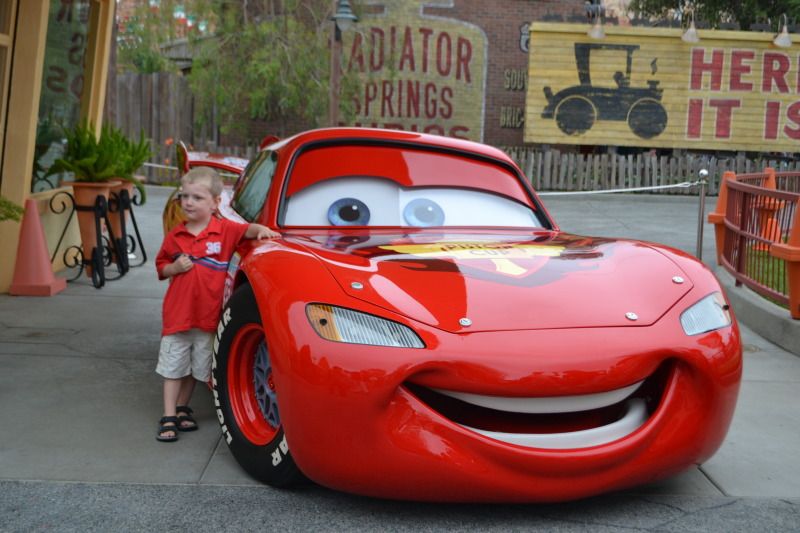 After watching Lightning McQueen drive away, we headed over to A Bug's Land. We wanted to do some attractions that Vanessa could enjoy, also. There really isn't much in Cars Land for babies.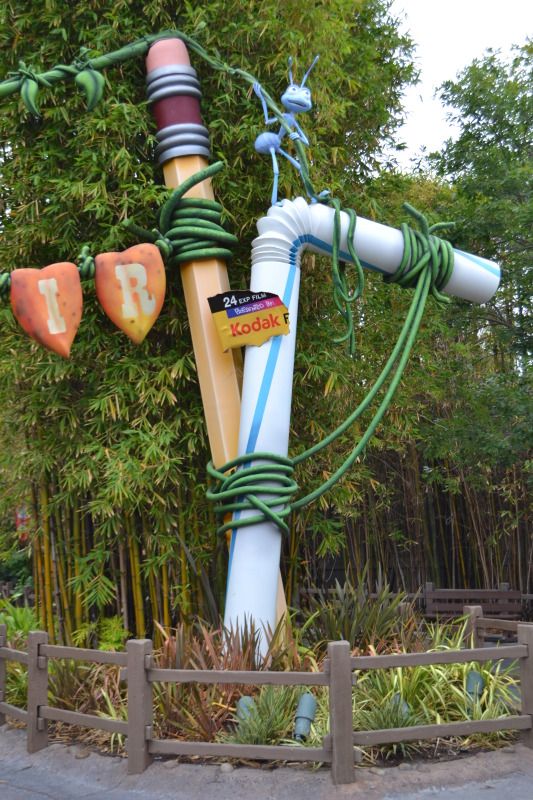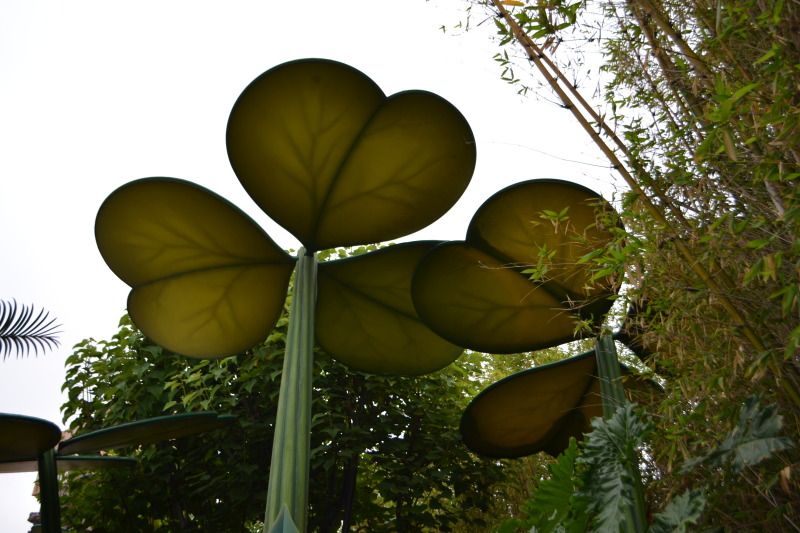 Carter and Vanessa had the best time in A Bug's Land! Vanessa loved the Chew Chew Train. We all rode it together, then when Carter, Megan and Daniel were going on other attractions in Bug's Land, Larry and I rode the train with Vanessa at least four times. By far, Carter's favorite ride in A Bug's Land was the Drive 'Em Buggies. He got the biggest kick out of them!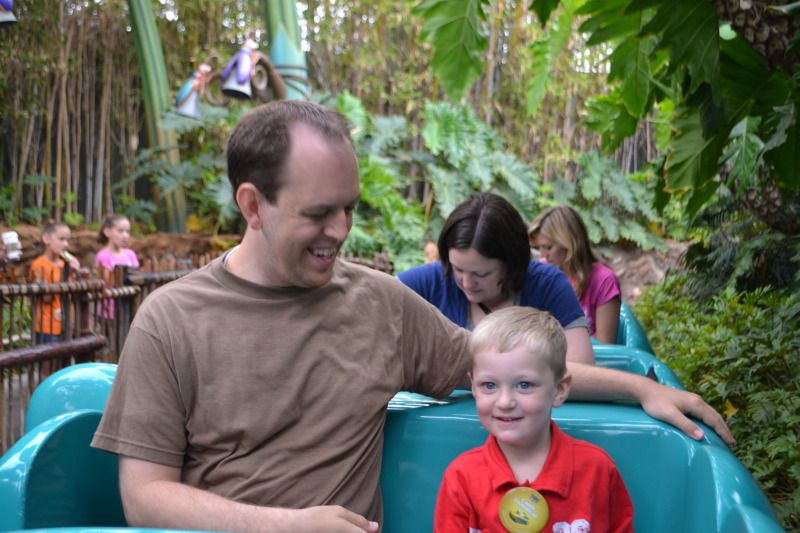 I loved the smell of the animal crackers as we rode past them on the train!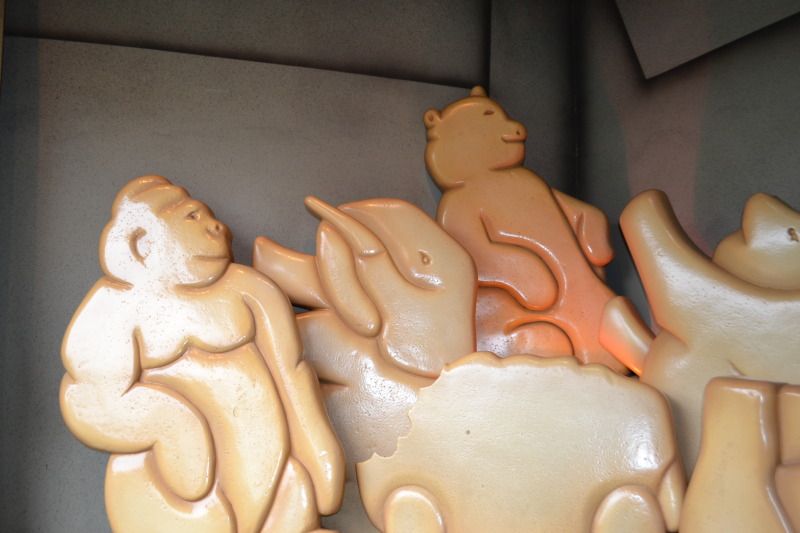 Drive 'Em Buggies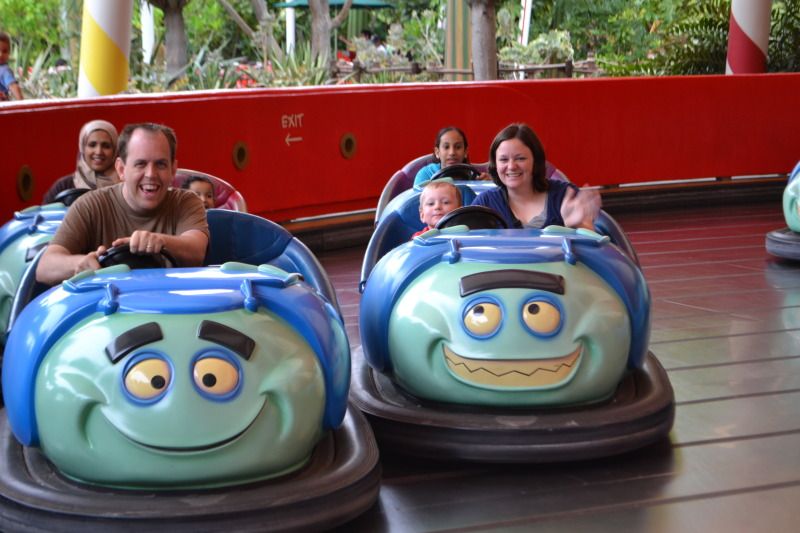 Poor grampa is back there all by himself.
Vanessa waving to all the Buggies.  And no, we didn't leave her there all by herself!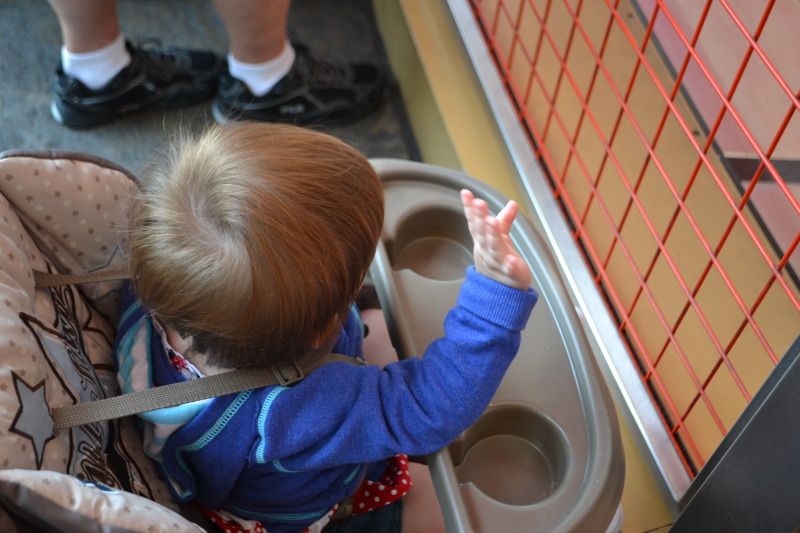 Flik's Flyers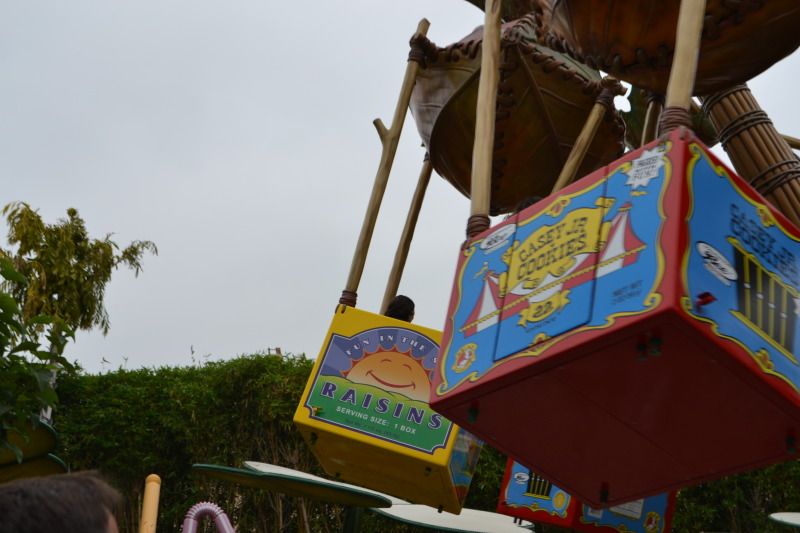 We then went to the 10:15 performance of the Disney Junior Stage Show. Both kids loved it! Vanessa especially liked the streamers and bubbles that came floating down from above. If time had allowed, I would have taken them back a second time.
Part of the Disney Junior Stage Show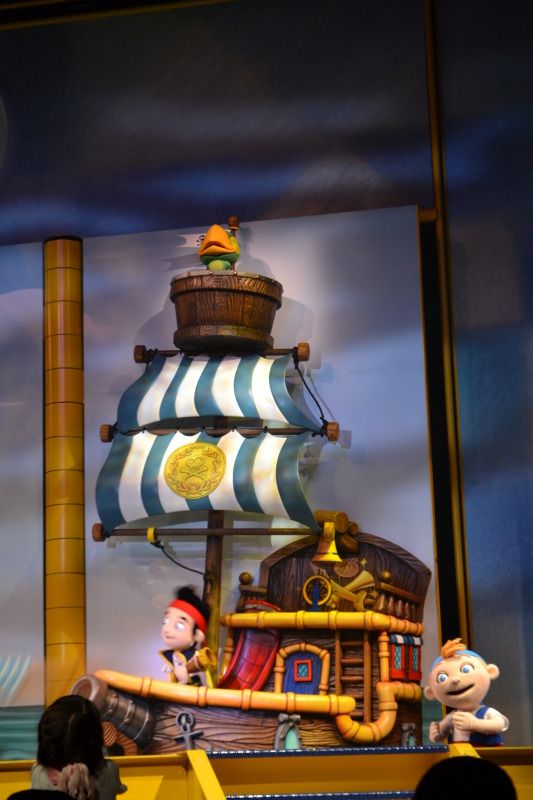 After Disney Junior, Megan and Daniel took Carter to the Muppet Vision 3D Show, and Larry and I strolled Vanessa up and down Buena Vista Street.
Red Car Trolley
Walt and Mickey!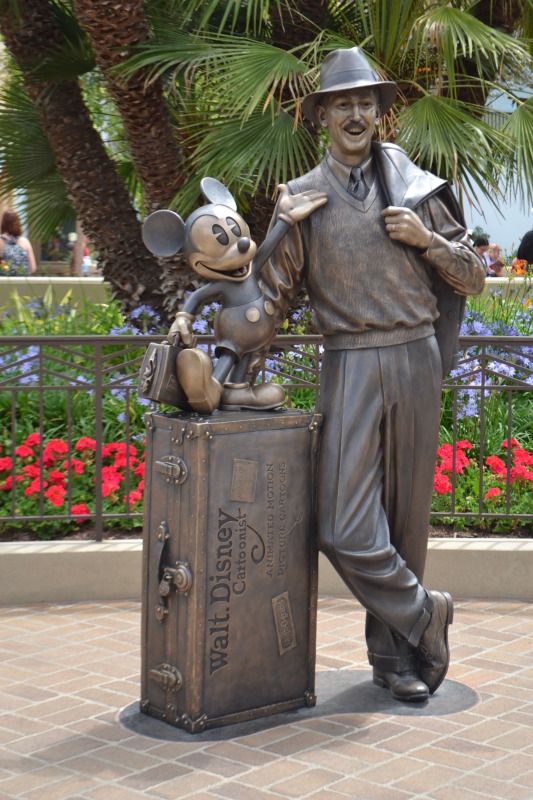 We caught a performance by the Red Car News Boys which Vanessa found quite entertaining. So did we!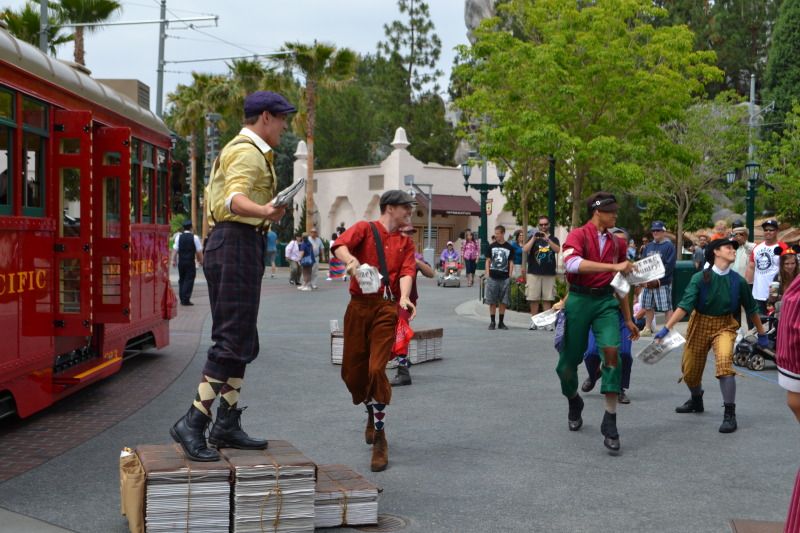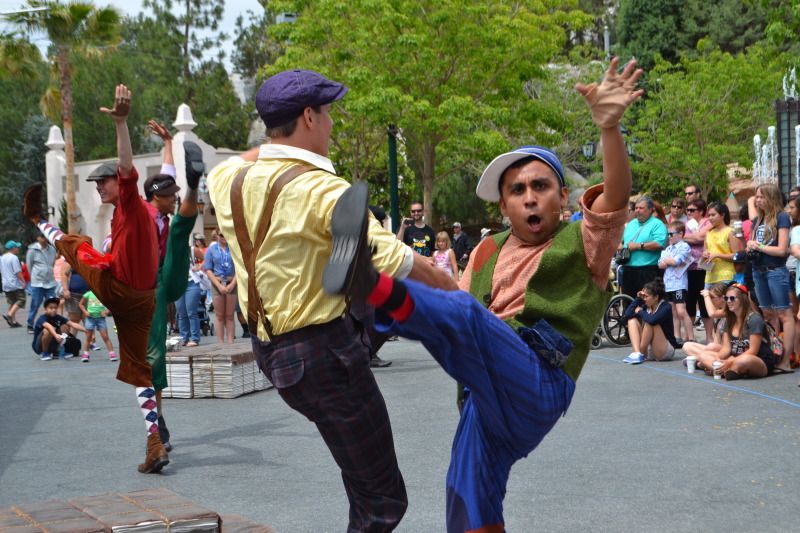 Mickey Mouse happened to walk by and he waved to Vanessa. She was not at all impressed! This was our first clue that the character breakfast we had scheduled for the following morning might not go as well as we hoped it would.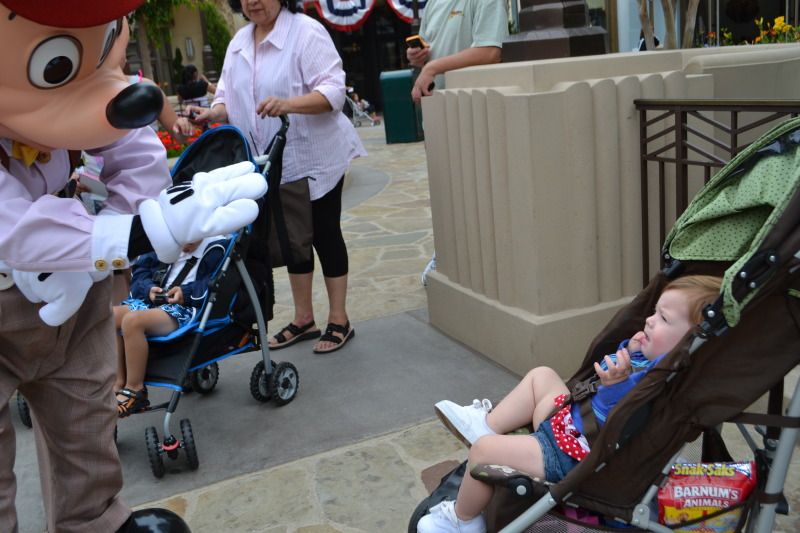 Five and Dime Jazz
Megan, Daniel and Carter met up with us and we decided to head over to Pacific Wharf to grab some lunch before heading over to the Radiator Springs Racers for our 12:55 time slot.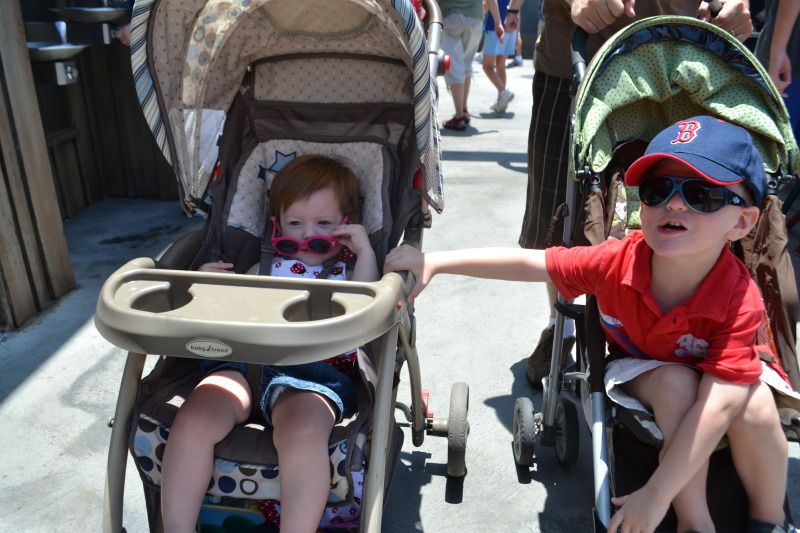 So we left Buena Vista Street and walked over to Pacific Wharf. We got sandwiches from Pacific Wharf Cafe and sat at a table near the water. The sun felt good and the views were nice. It was a relaxing lunch.
I like this shot with Mickey's Fun Wheel in the background.
We watched Phineas and Ferb's Rockin' Dance Party then headed over to Cars Land and the Radiator Springs Racers.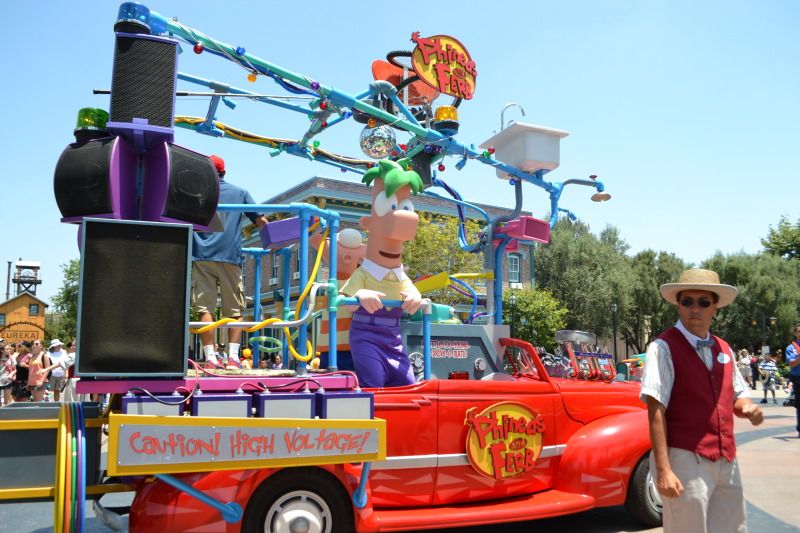 We had decided that Megan, Daniel and Carter would ride first while Larry and I stayed with Vanessa. A CM measured Carter (he's 41″ and his sandals put him a tiny bit taller) and off they went.
We weren't going to do the baby swap since it wasn't really necessary. Larry and I would ride as soon as the others were done. A cast member saw us standing there with Vanessa and walked over and handed us a blue piece of paper. We've never done a baby swap and weren't sure what the paper was for. I read it and told the CM that we had fast passes and didn't really need to do a baby swap. She smiled and said, "I'm only trying to help you out, (and here she was being funny) buuuuuuuuuuuut…if you don't want an extra ride on the racers…" Whaaat? I didn't realize we could use the baby swap pass and THEN use our fast passes.
While we waited for Megan, Daniel and Carter to return, Megan texted me the color of their car and the color of the car they were racing. Even with that info, we missed seeing them go past us. At that time, we didn't realize there was a much better viewing area on the other side by Flo's Cafe. We were standing by the exit area. The next day, I got much better pictures!
I think they were only gone about twenty minutes when we spotted them walking back from riding. The fast pass line couldn't have been more than ten minutes or so.
They LOVED RSR! Carter was all smiles and wanted to ride again! I was afraid the ride would be too intense for him, but his favorite part was when the cars raced. He kept saying he liked "the tractor tipping part, where Frank went fast!"
Happy little guy! He LOVED it!
Since we had the baby swap pass, Megan and Carter got to ride a second time. Daniel stayed with Vanessa, and Larry and I took off down the fast pass lane with Megan and Carter. Now, I'm not fond of fast rides and I don't do coasters or anything with too much motion, but I wanted to ride the Racers at least once. I'm glad I did! Of course, I was the only person in the car clutching the side and screaming (the photo on display at the photo booth confirmed this). Even though I may or may not have been terrified during portions of the race, I would do it again…sometime…not this trip…but sometime.
Spoiler Alert: Stop here and avoid the following pictures if you don't want to see photos from the ride. I know some people would rather wait and experience it without seeing photos first.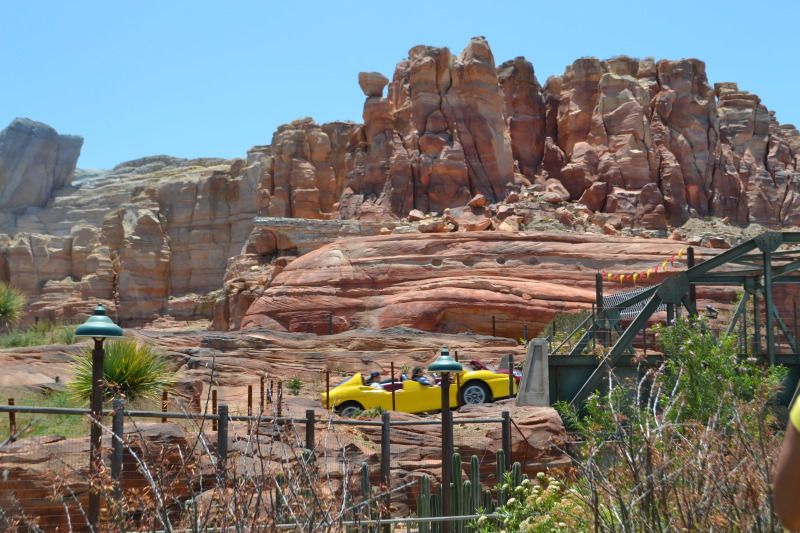 Stand by line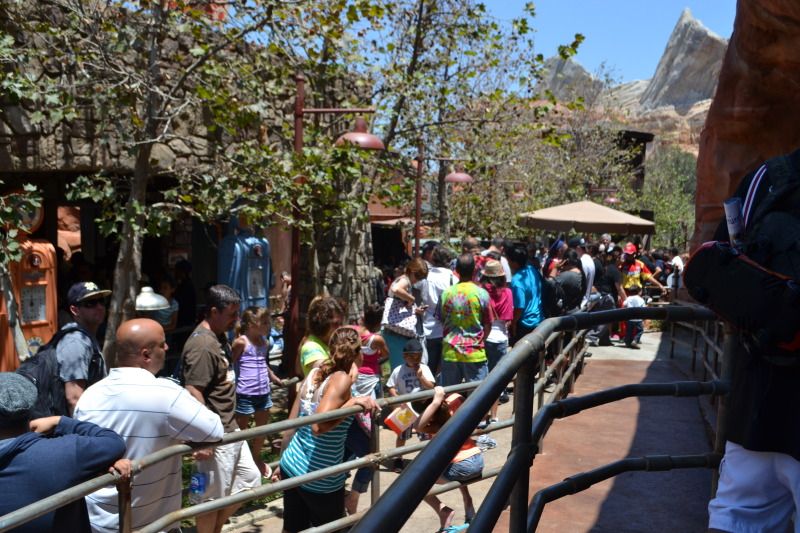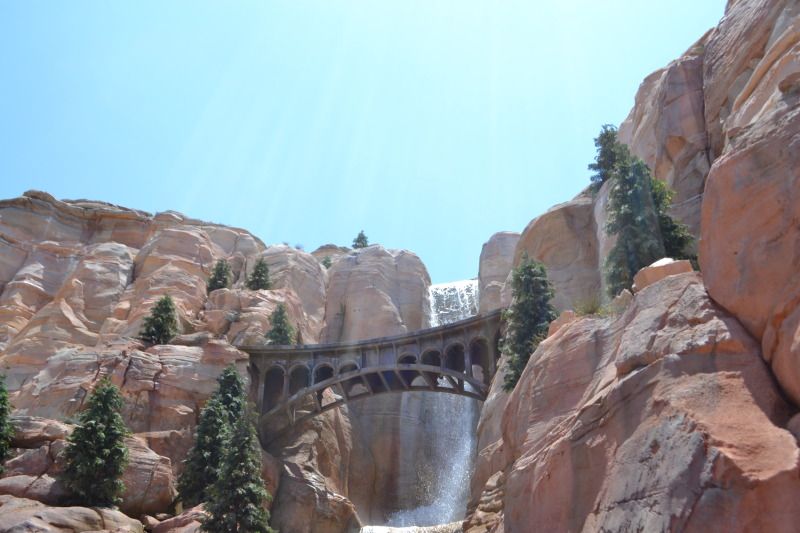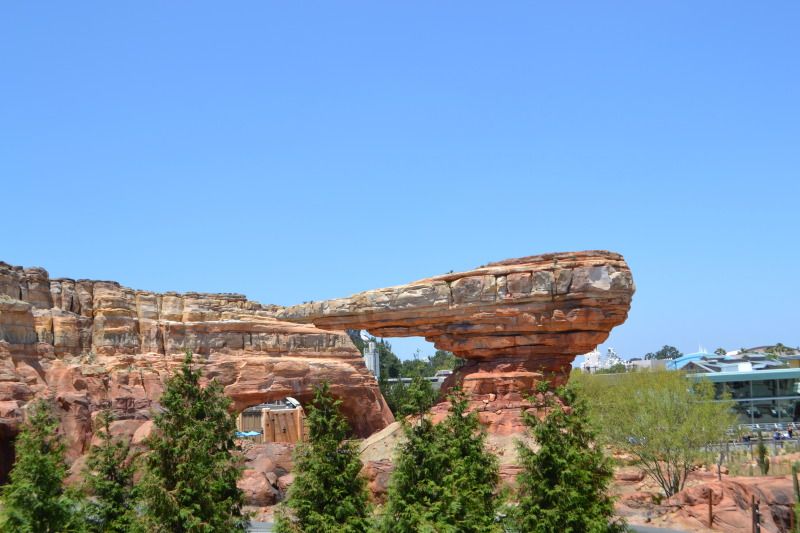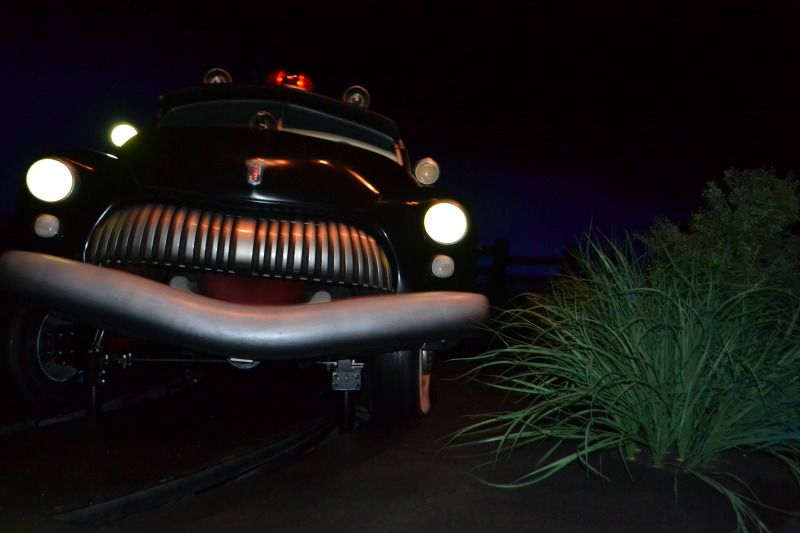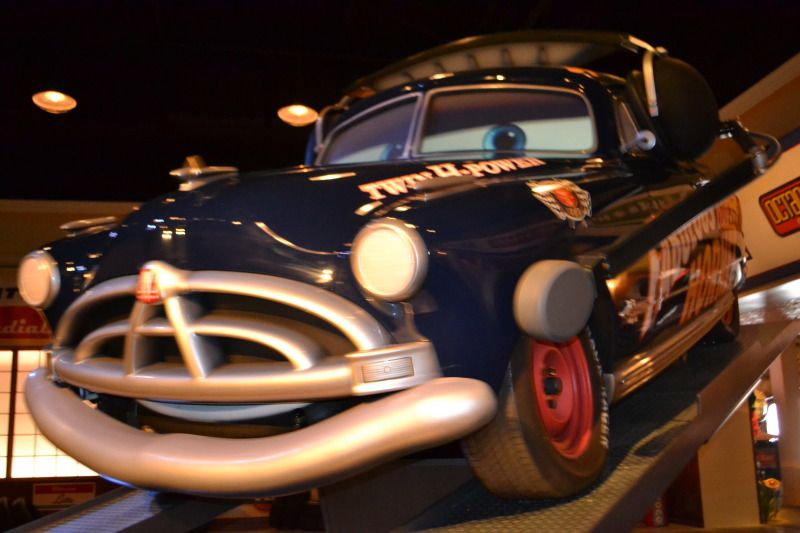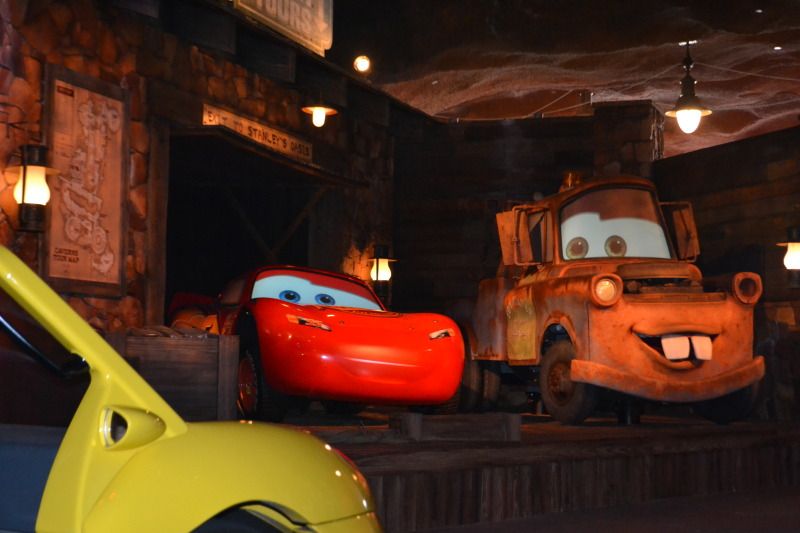 The yellow car we were racing. We were in a dark red car.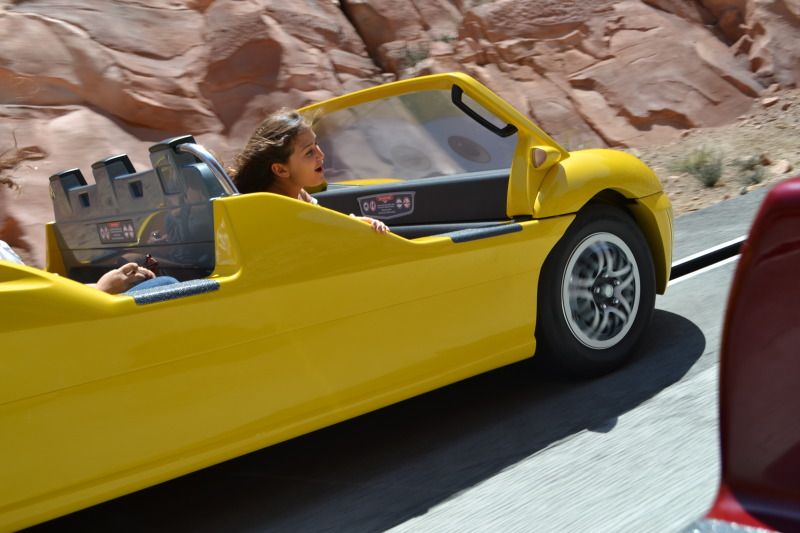 So Carter got to ride twice and would get to ride twice the following day.  Of course, he wanted to go again as soon as he finished his second ride, but when we mentioned ice cream, he happily took Grampa's hand and walked with us to the Cozy Cone Motel.
There are four "cones" that serve refreshments and the only one that had a line was the one for ice cream. While we sat and enjoyed our ice cream, Megan went to look around in Sarge's Hut. She surprised Carter with a toy replica of the tractor and trailer from Mater's Junkyard Jamboree.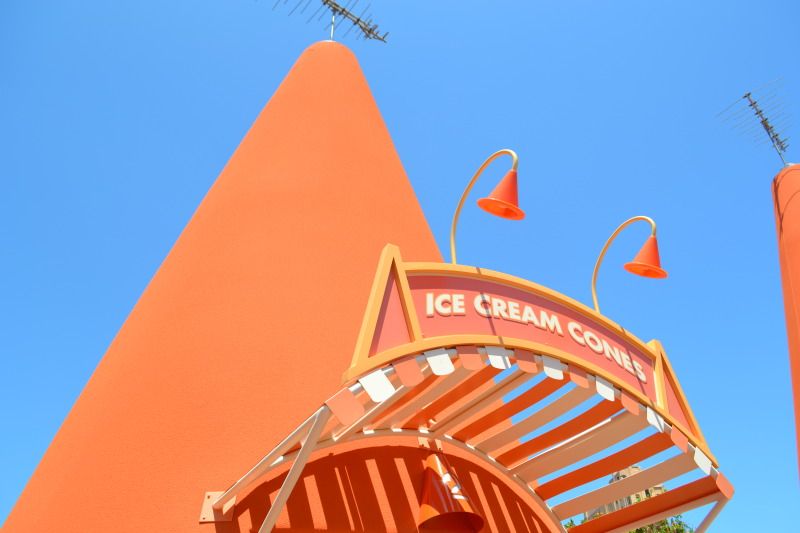 Sharing his ice cream with sister.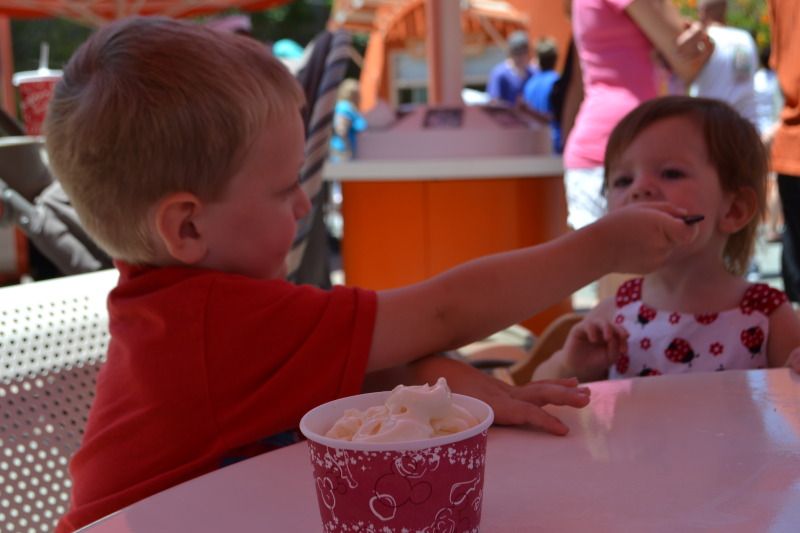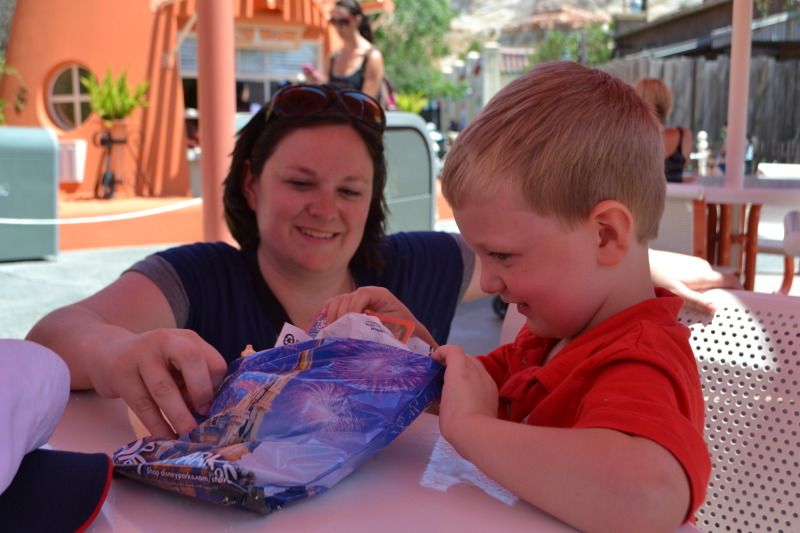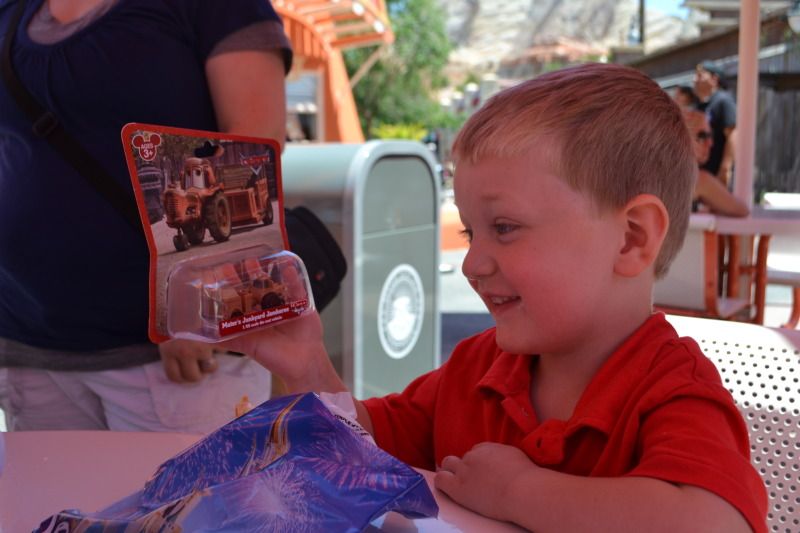 The kids were getting tired, and Vanessa hadn't napped in the stroller, so we decided to go back to the motel to rest for a few hours. On the way out, we stopped and watched the Pixar Parade, then took the shuttle back to the hotel.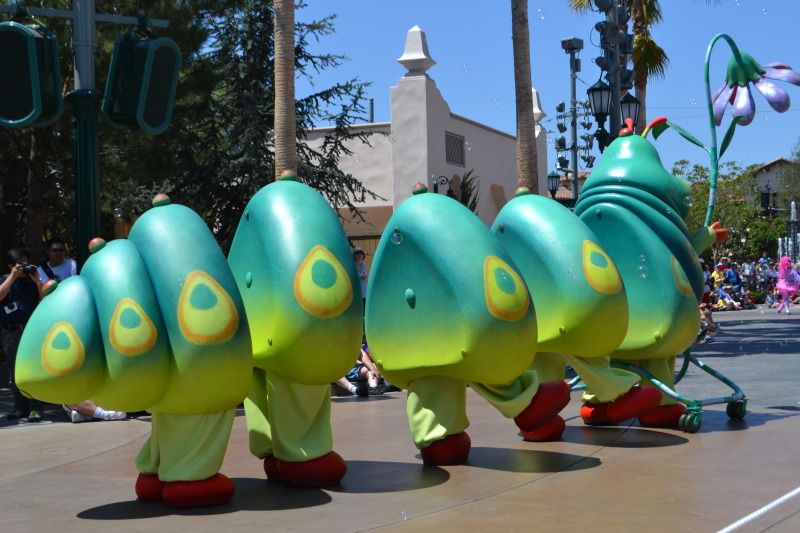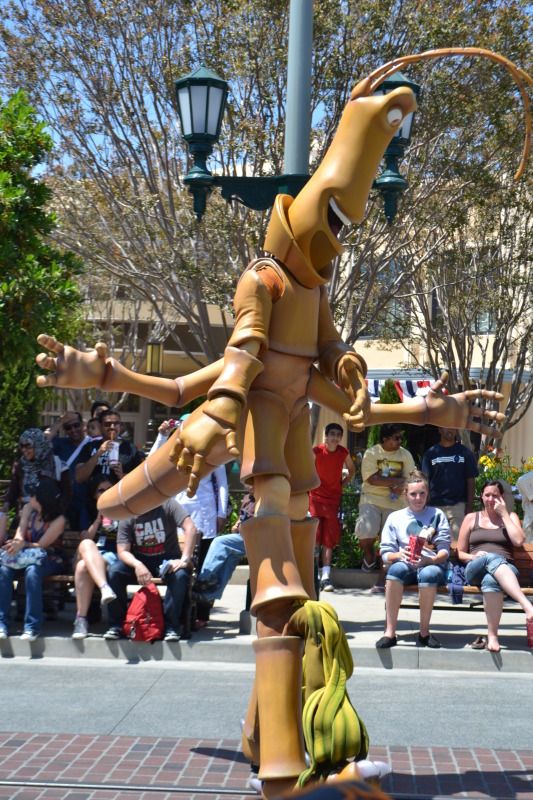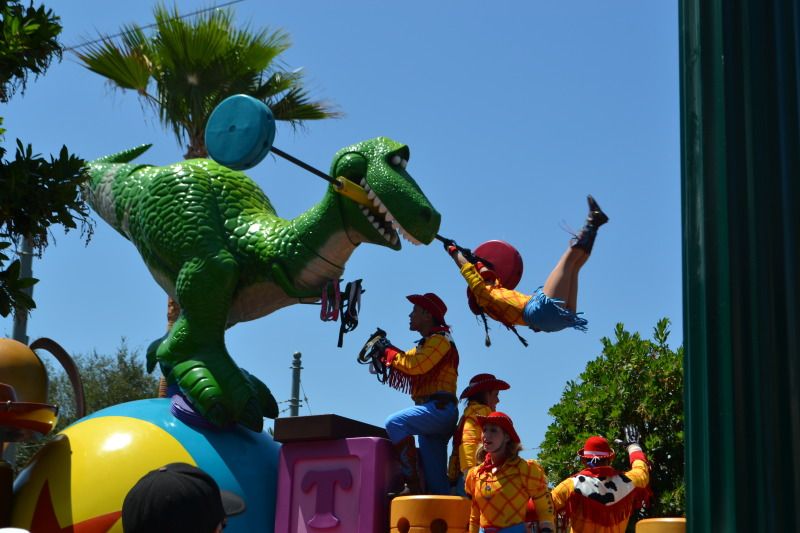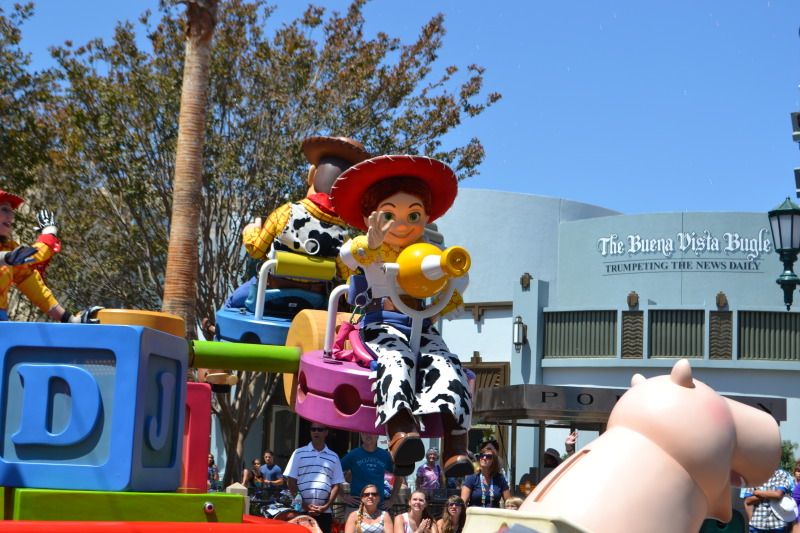 Larry and I went to our room while Megan and Daniel put the kids down for naps. The connecting doors were partially open and we could hear Vanessa playing and talking to herself in her pack 'n play. Carter was asleep within minutes, but Vanessa was wide awake! After about half an hour, she was still wide awake, so Megan suggested we put her in her stroller and walk back to the parks. So Daniel and Carter stayed at the hotel while Megan, Larry, Vanessa and I went back to Disneyland.
We decided to go into Disneyland and take Vanessa on a couple of the tamer rides.
Vanessa was absolutely mesmerized by everything in It's A Small World!
This was her expression the whole time, just fascinated by it all. So sweet!
Daniel and Carter met us after our first ride. Larry and I kept Vanessa and went to get good seats for the 6:30 parade, while Megan and Daniel took Carter on Snow White's Scary Adventures and the Carousel.
Megan and Daniel joined us for the parade and then some of that Disney magic came our way. We were sitting on the curb at the end of Main Street and a CM walked over and asked if we'd like to move to a different spot. We kind of hesitated and Megan said, "Is it as good a spot as we already have?" The CM told us to follow him, and he took us across the street to a small area with benches that were roped off. The rope had reserved signs on it. There were two rows of benches and he directed us to the front row right near the curb. Nice! We thanked him and settled in to watch the parade. We'd never had that happen in all our trips to WDW and Disneyland!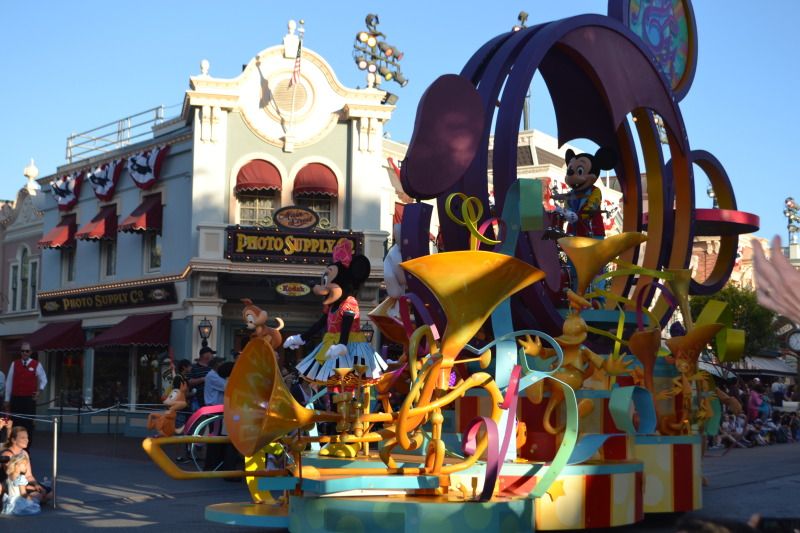 It was too cute the way Vanessa waved to all the floats and characters! She was fine as long the characters kept their distance!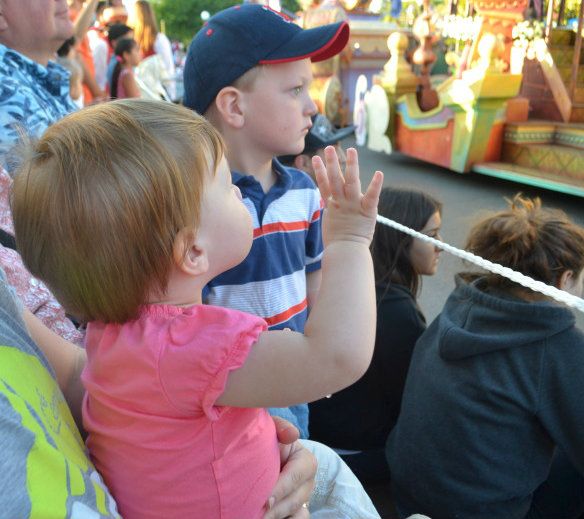 After the parade we walked over to Tomorrowland, had dinner at the Pizza Port, then rode the Disneyland Railroad around the Park.
Pizza!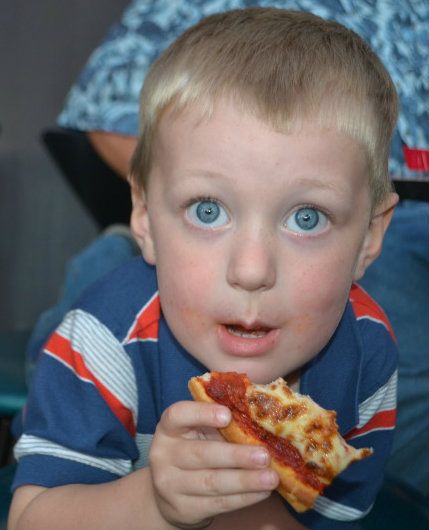 We had told Megan and Daniel earlier that we'd keep the kids with us this night while they went off together to enjoy the parks by themselves. Larry and I took Carter and Vanessa back to Cars Land so they could see it lit up night. The wait time for Mater's Junkyard Jamboree was only twenty minutes, so I took Carter on it. It was his second time riding it and my first. It really was a lot of fun!
Waiting in line to ride Mater.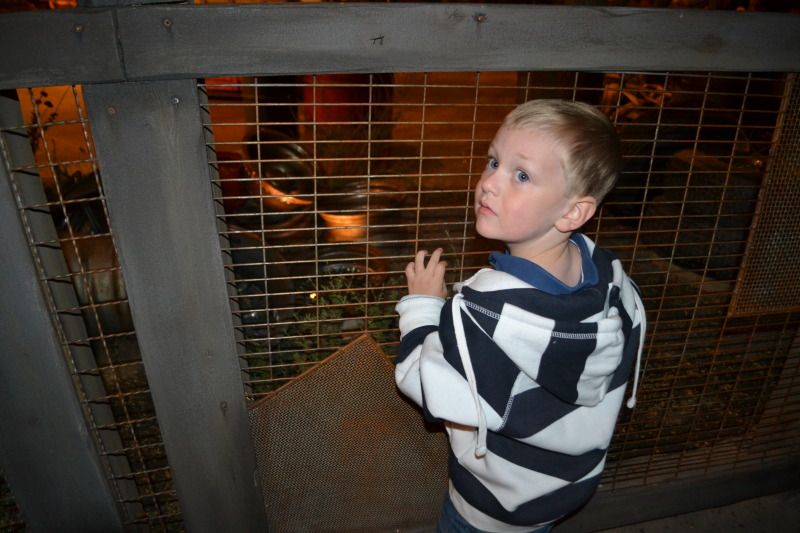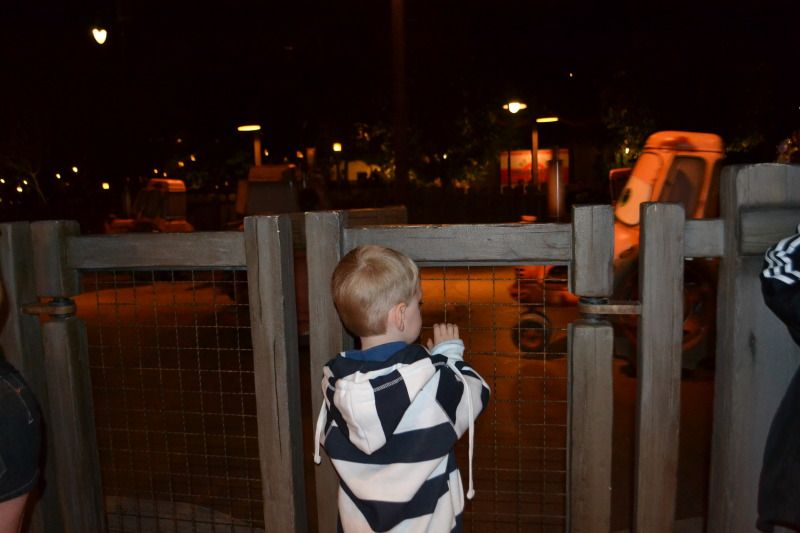 It was getting chilly and the kids were getting tired (ok, so were the grandparents!) so we walked back to the hotel. Vanessa fell asleep in her stroller, and I managed to get her pjs on her and get her in the pack 'n play without her waking up. Carter watched tv with us, and when we heard the fireworks start up, we stepped outside our room to watch them. Carter fell asleep in our room, and when Megan and Daniel got back, they put him in with them.
Meanwhile, Megan and Daniel had ridden Big Thunder Mountain Railroad twice with no wait, and went through the Haunted Mansion once. Then they switched parks during the fireworks display and watched the 10:15pm World of Color show at California Adventure. After it was over, they jumped onto the nearest ride, Ariel's Undersea Adventure, before heading back to the hotel. They said they really enjoyed their night.
Tomorrow would be another early day. We had 8:10am reservations for the Minnie and Me Character Breakfast at the Plaza Inn, and Daniel was going to stand in line at DCA for fast passes to RSR.
Friday, June 22nd- A little tap, tap, tap on the connecting door to our room woke me up at 6am. I got up, opened the door, and Carter came bounding into our room ready to start the day. He said his mom said he could come visit us. We were all up and on our way to Disneyland by 7:30am. Daniel ran to the pool area and got a pastry to eat on the run since he wasn't doing the character breakfast with us. After going through security and the Disneyland Park turnstiles, we gave all our tickets to Daniel and he headed right over to DCA to wait in the FP line for RSR.
The rest of us went down Main Street to the Plaza Inn. We checked in and were given our breakfast buttons.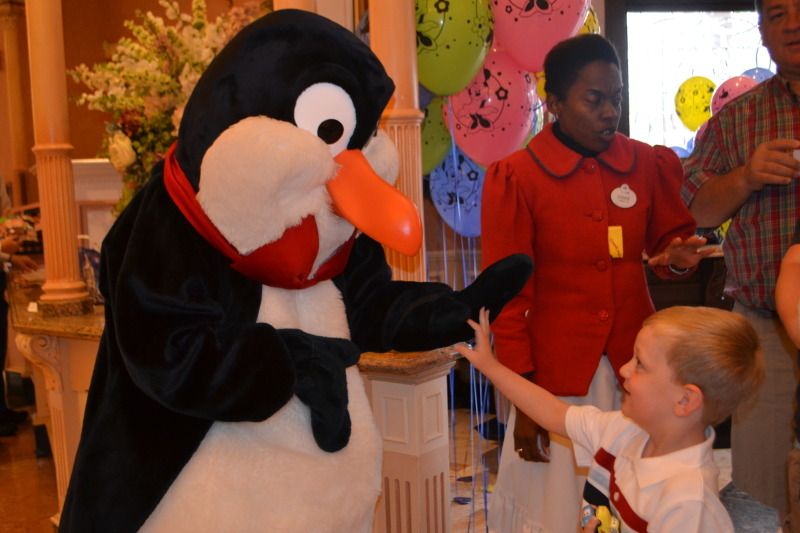 We knew from past experience that Carter would absolutely love the character breakfast. He was 17 months old (a month older than Vanessa is now) when we took him to WDW for the first time, and he was not the least bit afraid of any of the characters. In fact, we had a hard time holding him back in line and waiting his turn! He marched right up all by himself to every character and hugged them. It was the cutest thing ever!
Vanessa is a different story! She did not like the characters! She didn't mind them too much if they were at a distance, but the second they got too close she would scramble to get away and start to cry. I was hoping to get some cute pictures with the two grandkids with the characters, but it was not to be. I guess we'll have to try again when she is older! She does like to eat, though, so she did enjoy her Mickey waffles.
The characters were great with Carter and they spent a lot of time playing with him and being silly, especially Winnie-the-Pooh and Eeyore.
Not a face Vanessa wanted to see!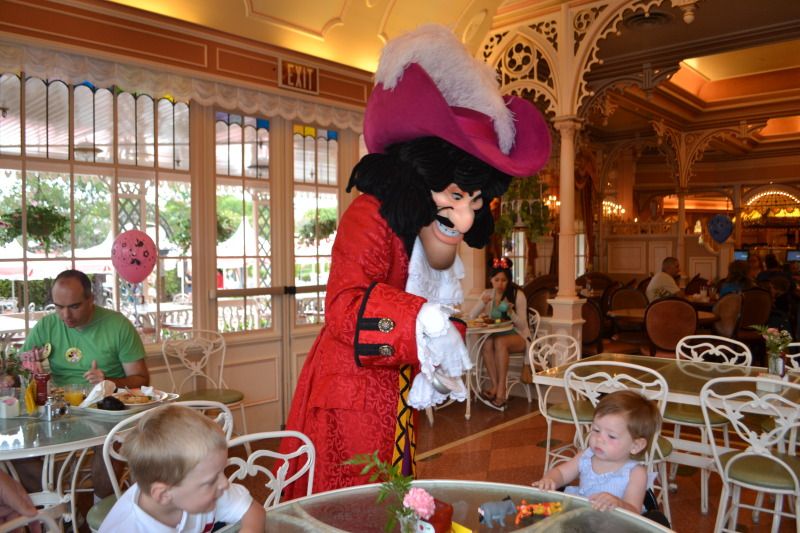 Eeyore was pretending to be mad at Captain Hook for upsetting Vanessa.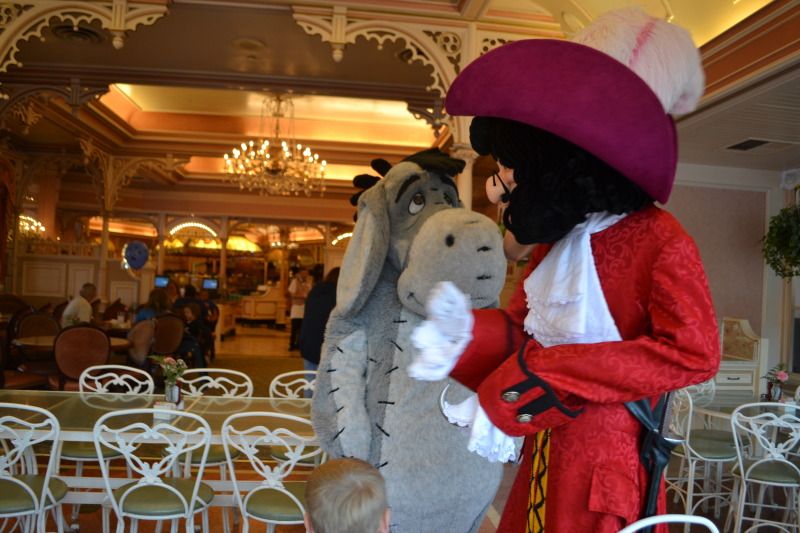 And he blocked Vanessa so Captain Hook couldn't see her.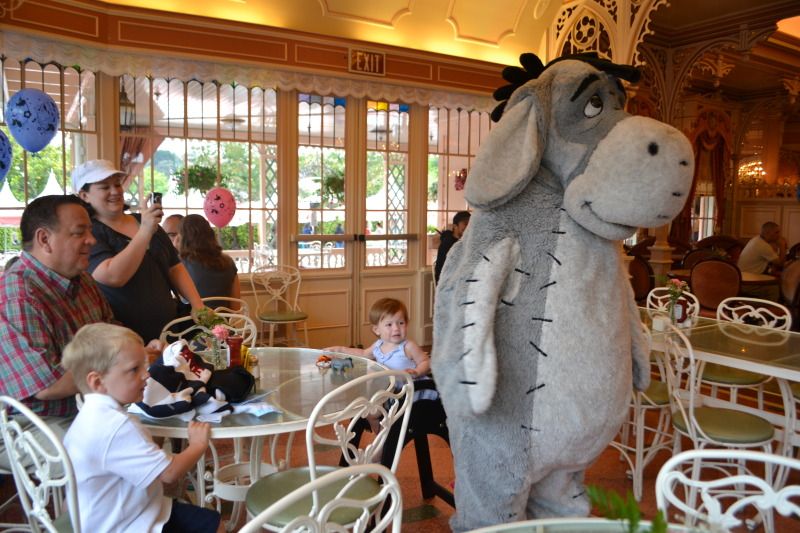 Hugs for Eeyore!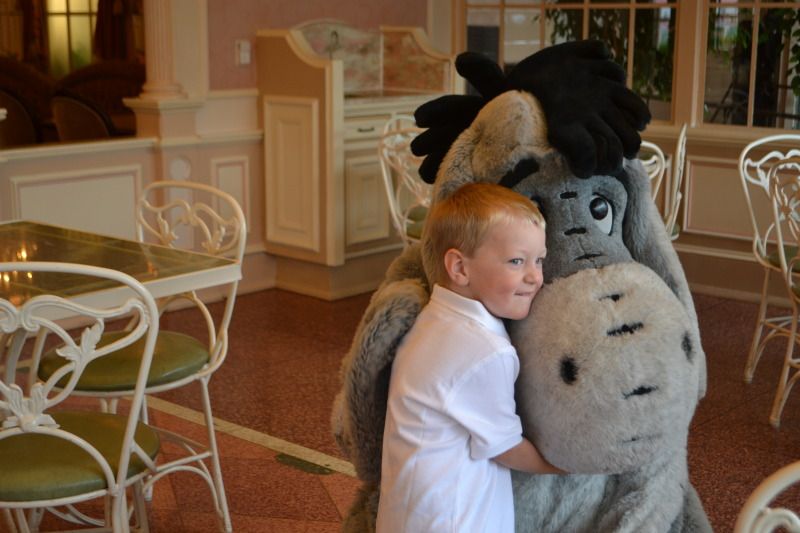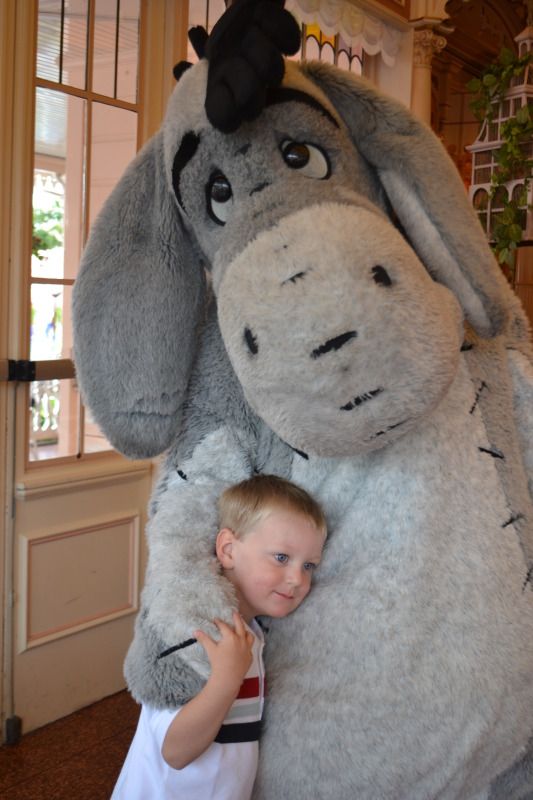 More hugs!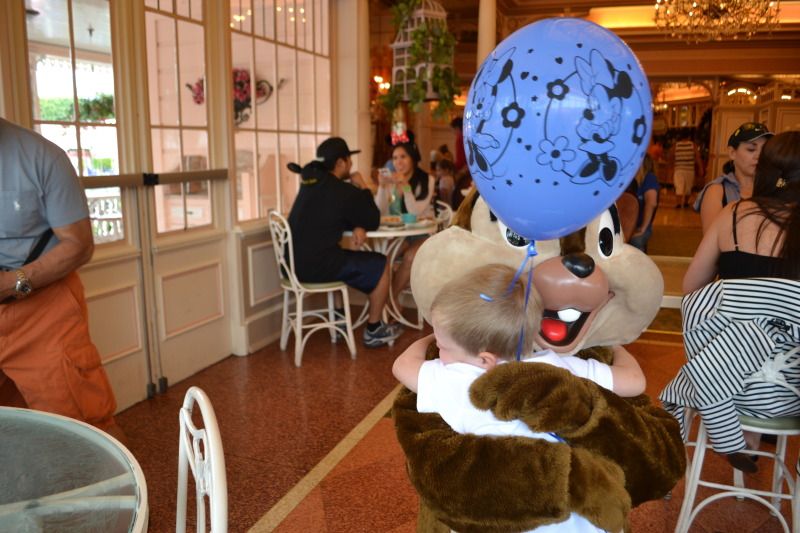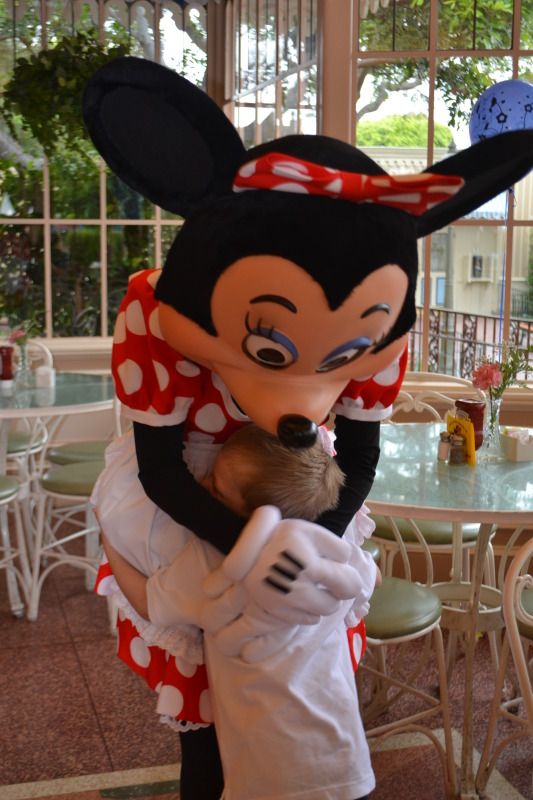 Vanessa was happy because there were no characters near her!
Uh Oh!
"Yes, that's right, good-bye and don't come back!"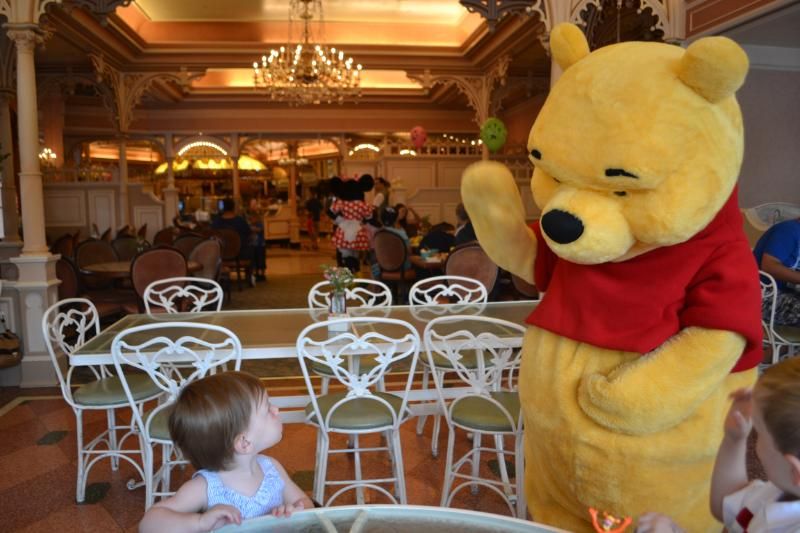 Eeyore went outside and when he came back in, he pretended he was stuck in the doorway.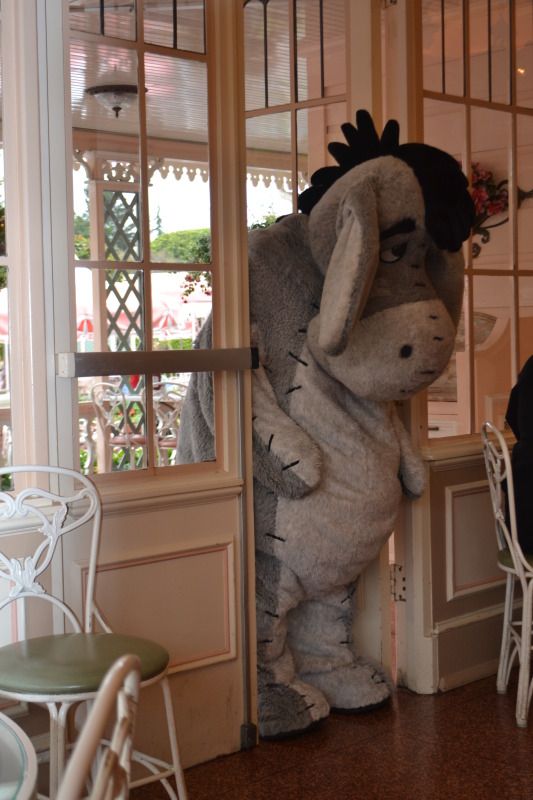 After breakfast we walked back down Main Street to meet up with Daniel. He got five fast passes with a return time of 4:10-5:10. He was also given four passes, each one good for up to six people, for California' Screamin'. Those passes were for 9-10am, so Megan and Daniel headed over to DCA right away! They rode the big roller coaster twice and then gave the rest of their passes to a couple of families who were headed to the regular stand by line.
Meanwhile, Larry and I took the kids on some rides in Fantasyland, including Peter Pan's Flight, Pinocchio, Dumbo, and the Storybook Canal Boats. It was not crowded at all, and most of the rides were less than a five minute wait. The longest line we stood in was for Peter Pan which was at twenty minutes. Carter had a great time on the rides, but Vanessa was a bit leery of some of them. She liked all the bright lights and moving figures, but wasn't crazy about areas that were dark. She wanted to be held so she could put her head on someone's shoulder when she didn't like certain aspects of the rides. As far as Fantasyland attractions, It's A Small World was definitely her favorite!
Waiting in line for Peter Pan's Flight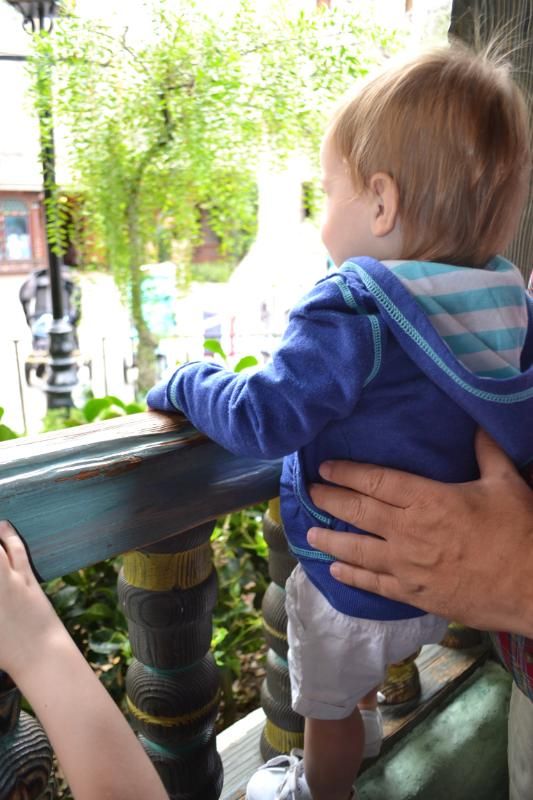 All systems go!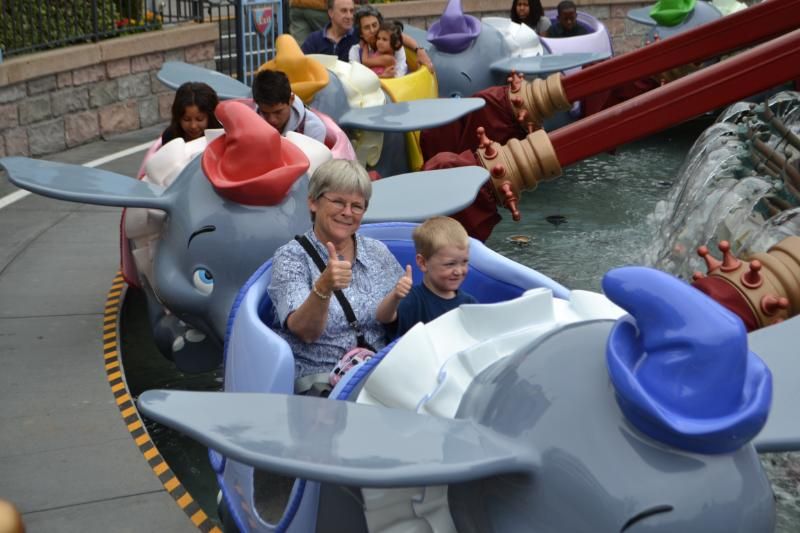 I don't remember what Carter was doing, but I remember Vanessa didn't want to get out of stationary Dumbo!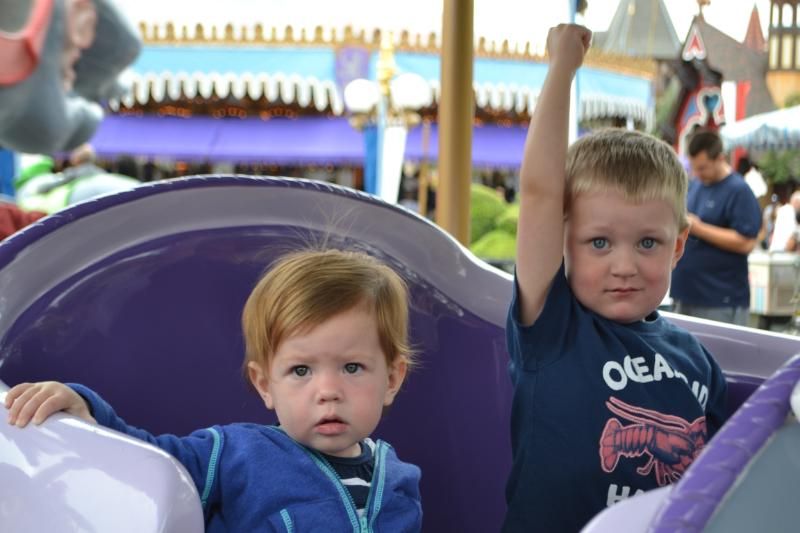 Megan and Daniel met up with us, and we all rode Alice In Wonderland together. Then we headed to New Orleans Square for Pirates of the Caribbean! Again, Vanessa didn't like the dark parts, so Grampa held her tight and kept her safe.
Captain Jack Sparrow, you say!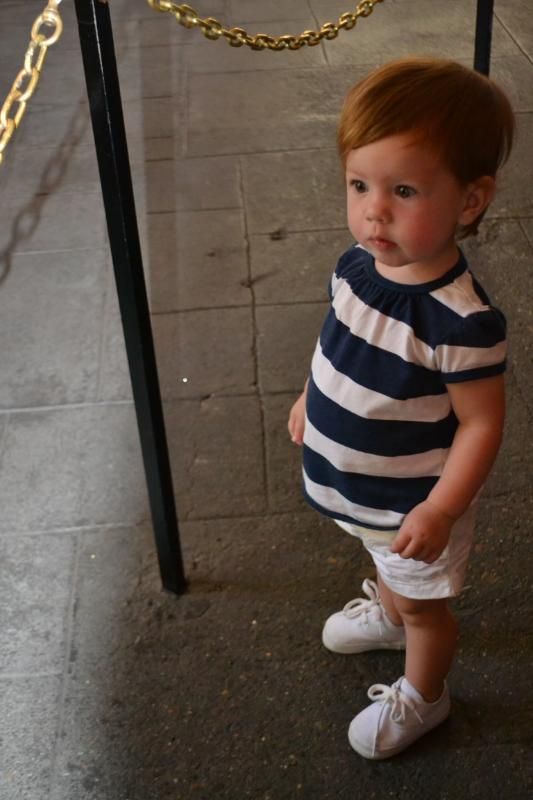 Let's go!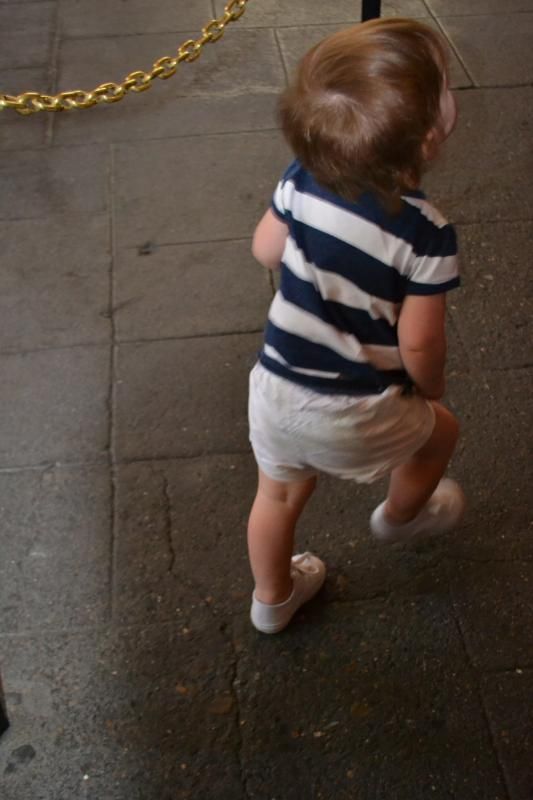 We were all hungry after the ride, so we walked over to the River Belle Terrace for lunch. Again, the sun was shining, the weather was beautiful, so we sat at an outside table and enjoyed the surroundings.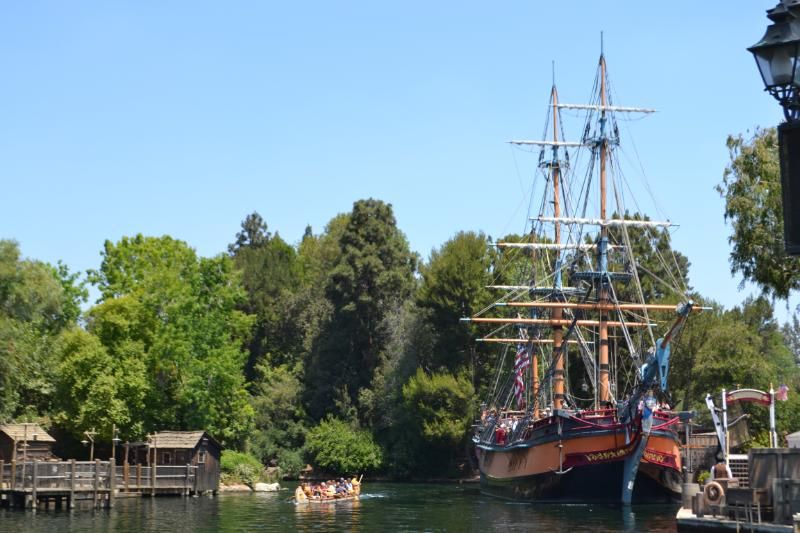 Megan and Daniel had asked Carter if he wanted to ride Space Mountain ("a dark, fast ride") and he said yes, so after lunch the three of them headed there. Carter said he liked Space Mountain, but when they asked him if he wanted to ride it again he said, "Ahhhhhhhhhh….no." After Space Mountain, Megan and Daniel had fast passes for Star Tours, so Larry and I took Carter and Vanessa over to Critter Country to ride The Adventures of Winnie the Pooh. They both loved it!The afternoon was getting hot and the park was getting crowded, so Megan and Daniel decided to take the kids back to the hotel for an afternoon rest. They would be out late that night, so they were hoping the kids would nap for a bit. Larry went back with them, but I wanted to stay in the parks and do some exploring on my own. Shopping! I walked out to the Plaza area with them and they took off to catch the shuttle back to the hotel, and I went in to DCA. We would all meet up around 4pm at the front of DCA in time to be at Radiator Springs Racers for our fast pass time slot.
I had two and a half hours to roam around and do some shopping. I walked around the Hollywood area, then went back to Buena Vista street. I spent a lot of time in the Five and Dime shop. Love that place! Tons of stuff! Trolley Treats had a chocolate cupcake calling my name, so I had to get it. It was delicious!
After checking out the shops in Cars Land, I walked back to the front of the park and waited for the others to arrive. I was excited to watch the racers again!
The crew arrived at DCA shortly after 4pm, and we headed to Cars Land. This time we entered Cars Land through Pacific Wharf. This entrance takes you right past the Racers where there is a great section to view the cars as they race down a hill toward the end of the ride. It also allows for a much more dramatic first look at Cars Land when you enter from Pacific Wharf.
And…back to the Radiator Springs Racers!
Vanessa decided it was a good time to take a cat nap in her stroller!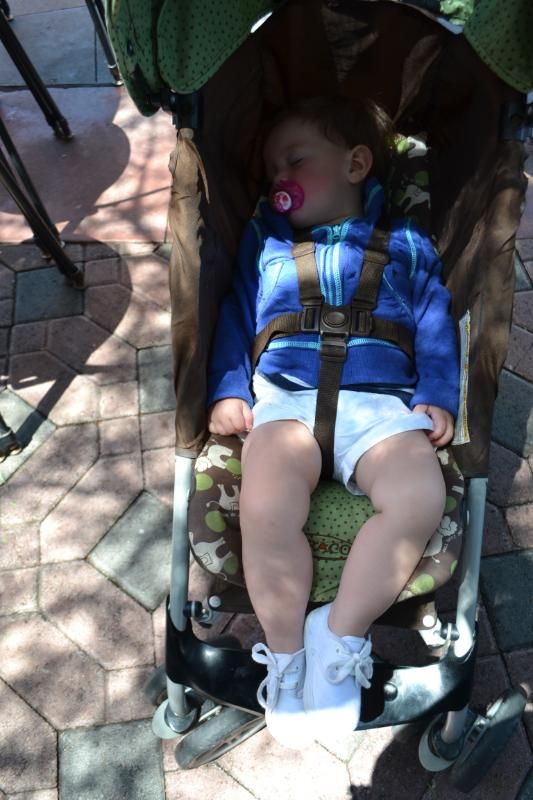 We got another baby swap pass, and I stayed with Vanessa while Larry, Megan, Daniel and Carter got in the fast pass line. I took Vanessa around to the viewing area and waited for them to text me the color of their car. After about fifteen minutes of waiting, Megan sent a text saying they were still in line and that the ride had stopped. I knew something was up because a few minutes had gone by without any cars racing past. Then the cars went by randomly, two at a time, one by itself, some with people, some empty. And they weren't zooming by, they were going slow.
Luckily, it wasn't long before the ride was up and running properly. So, I continued to wait and watch. Again, the ride broke down. Another ten minutes or so, and the ride was running again. Finally, I saw their car!
They are in the blue car. Megan and Daniel are in the front and Larry is in the back with Carter. He is too short to see, though! When Megan saw this picture, she said it looks like the people in the other car are having more fun. I said they were just camera hogs. HA! HA!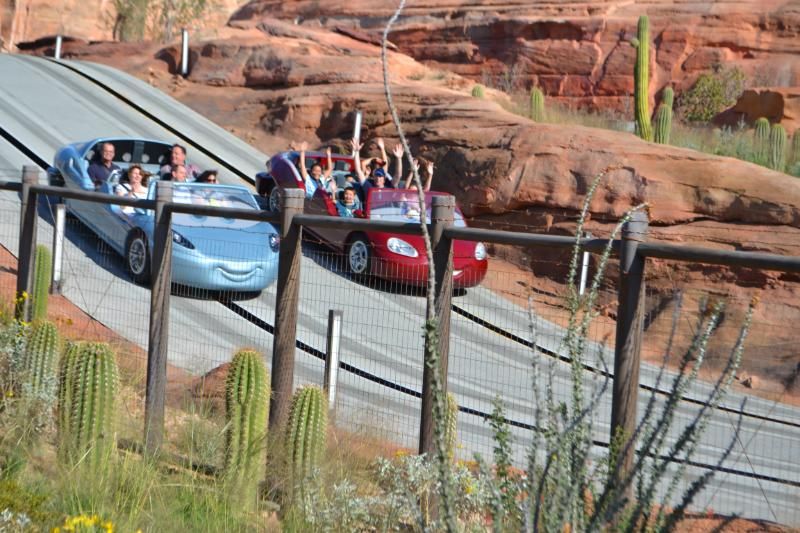 I went back around to the ride's exit and caught this pic of Carter running up the path all excited to ride again. (Mom, Dad and Grampa were right behind him!)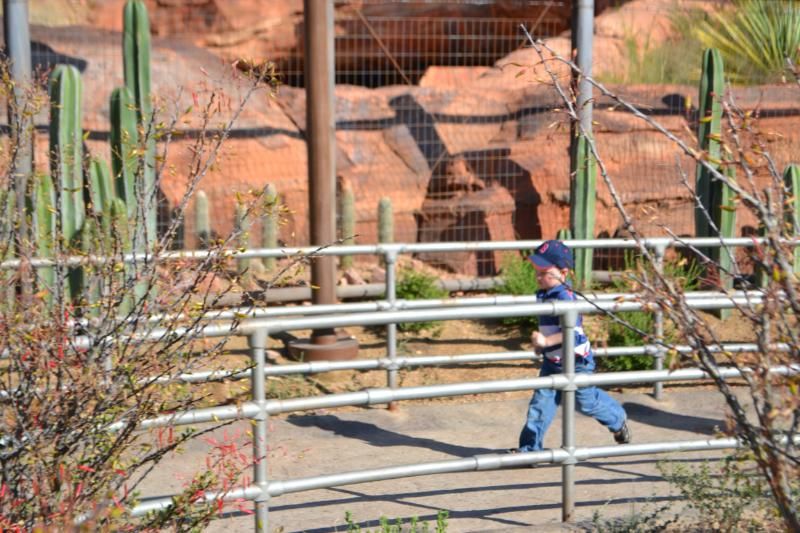 Larry joined me and Vanessa while Daniel, Megan and Carter got in line and rode again. This time I was ready for them. I remembered to put my camera on the continuous shutter mode.
They are in the back of the green car.
Even though RSR broke down twice, it took them less than an hour to go through the fast pass line twice and get two rides on RSR.
While we were waiting for them to ride RSR, we saw DJ go by.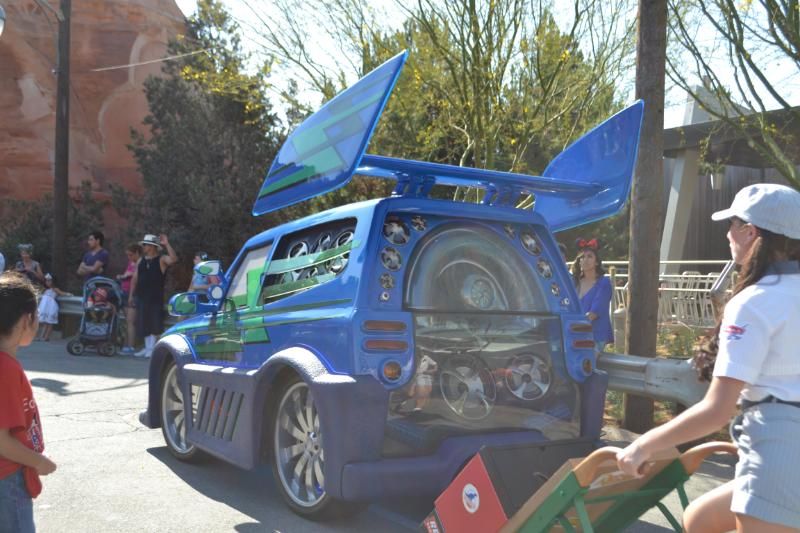 And Vanessa enjoyed a snack!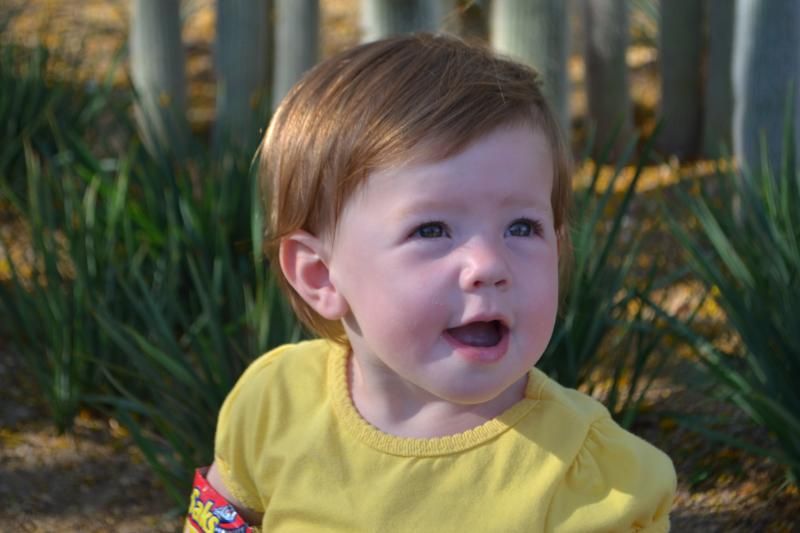 Such a sweet little girl, but try and take cookies away from her she turns into the Hulk!!!!
Next up was a visit with Mater. This was probably one of Carter's favorite moments at Cars Land!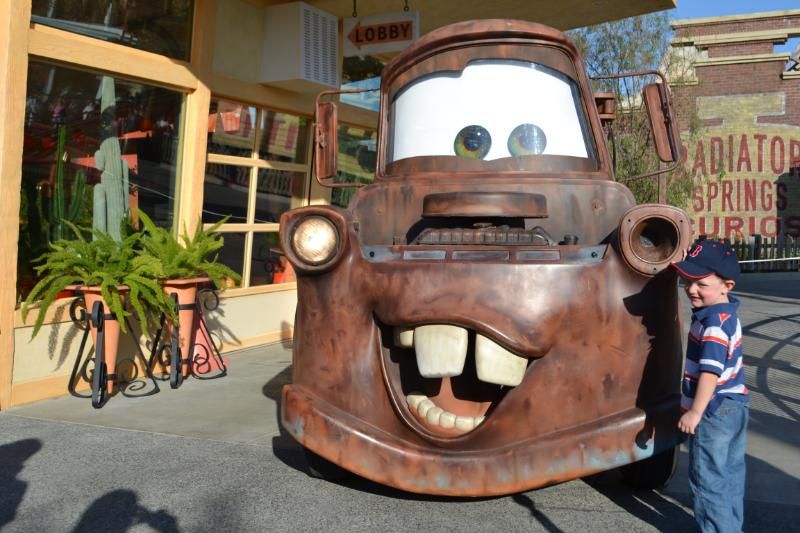 A hug for Mater.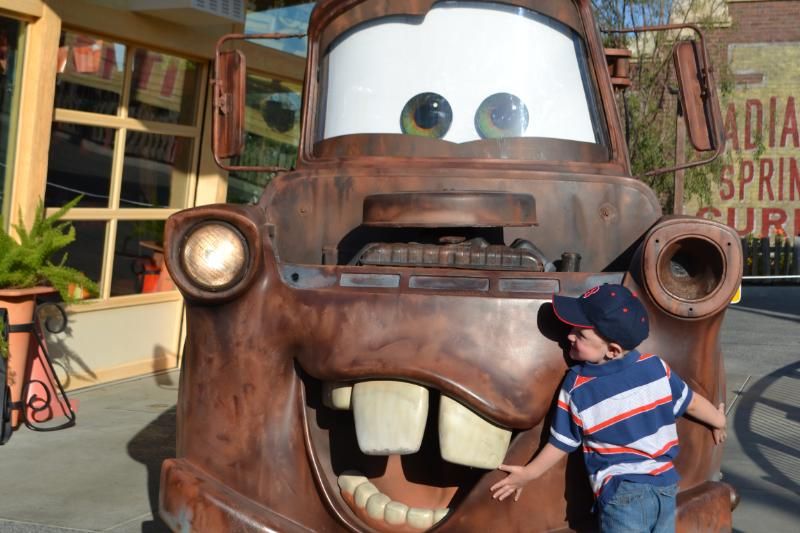 After waving good-bye to Mater, Daniel and Megan took Carter to the 6:20pm show of Aladdin, and we took Vanessa back to A Bug's Land.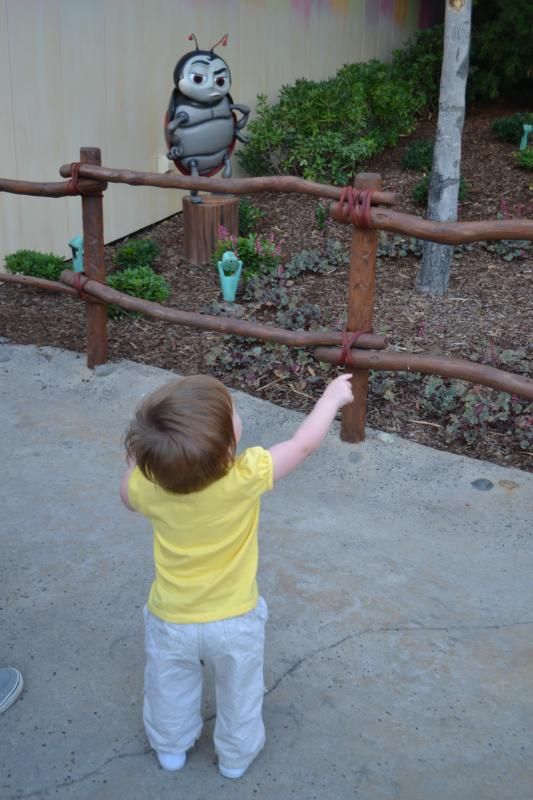 We rode the Chew Chew Train a few times, then walked over to Pacific Wharf to take her on Ariel's Undersea Adventure. I'm glad we did, because she LOVED this ride! There was no line so we rode it three times.
There are tons of things to see and do at theme parks, but I guess rocks are interesting, too. Here is Vanessa exploring the pavement.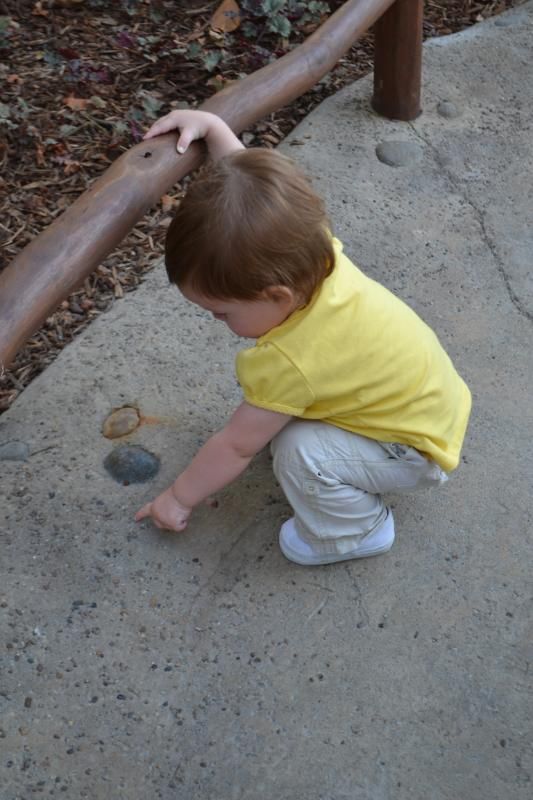 And here is Carter doing the same thing at Sea World when he was around the same age.
Go figure!
More pics from Cars Land
A hug for Red!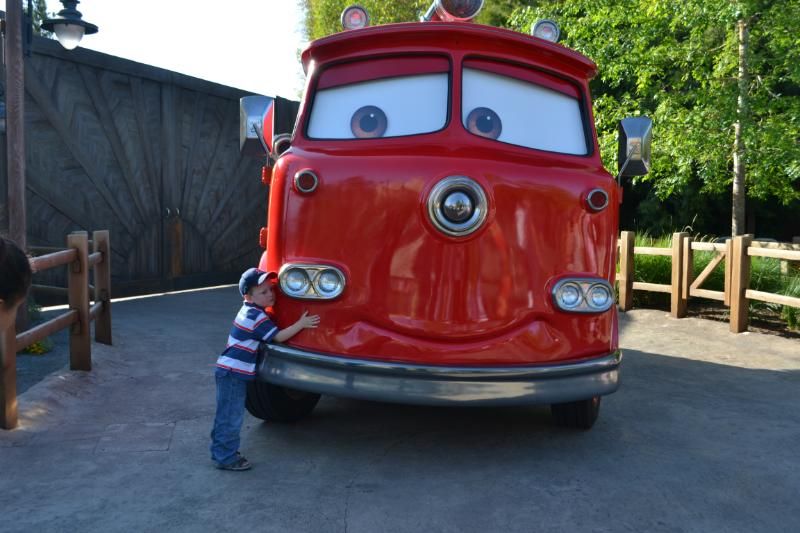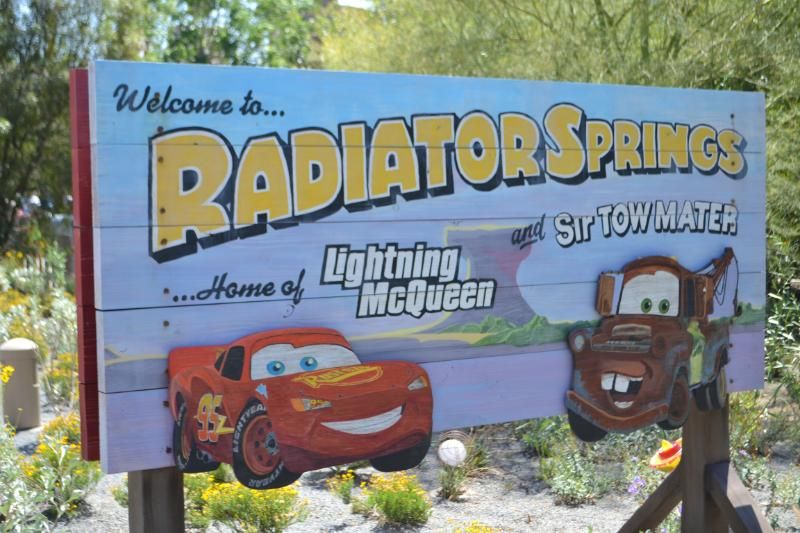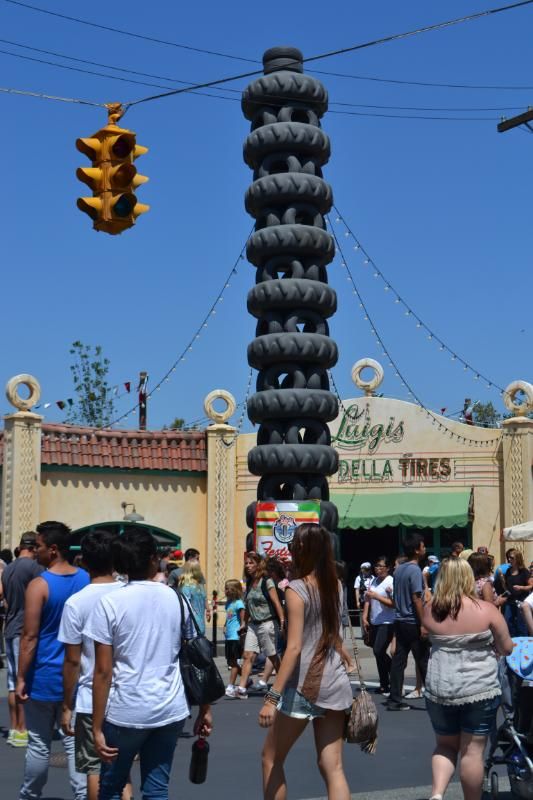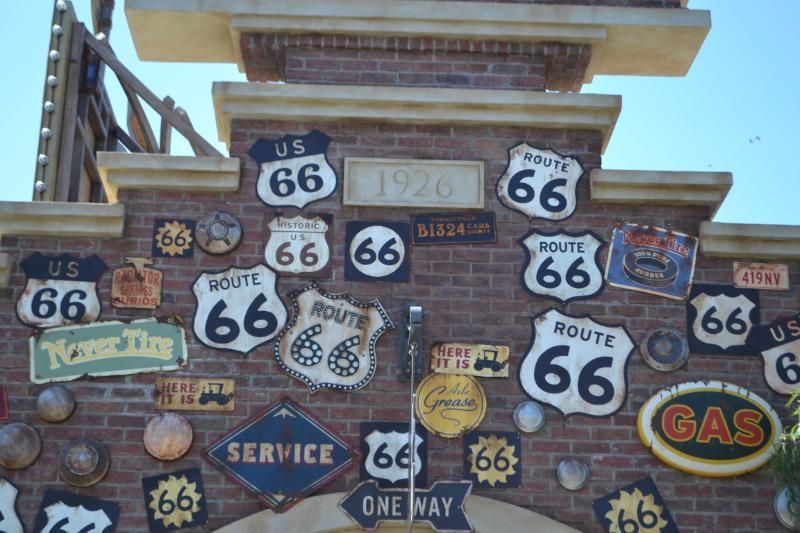 Stanley!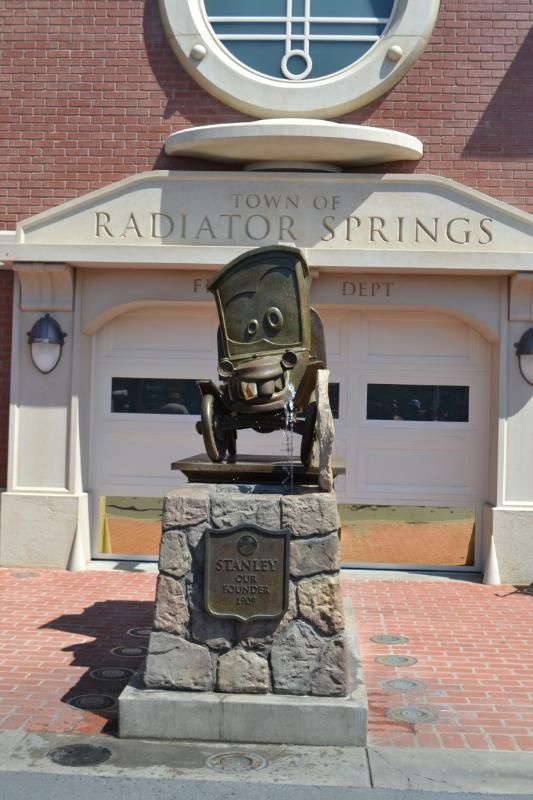 Luigi's Flying Tires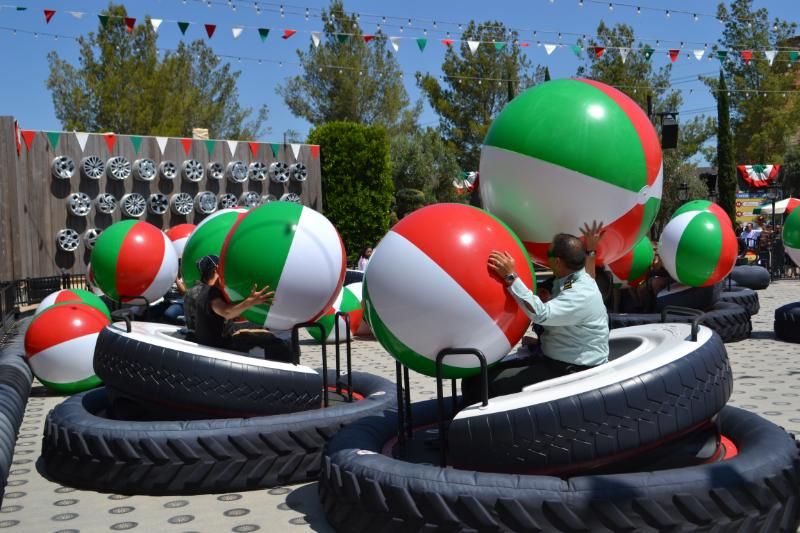 "Drinks" at Flo's Cafe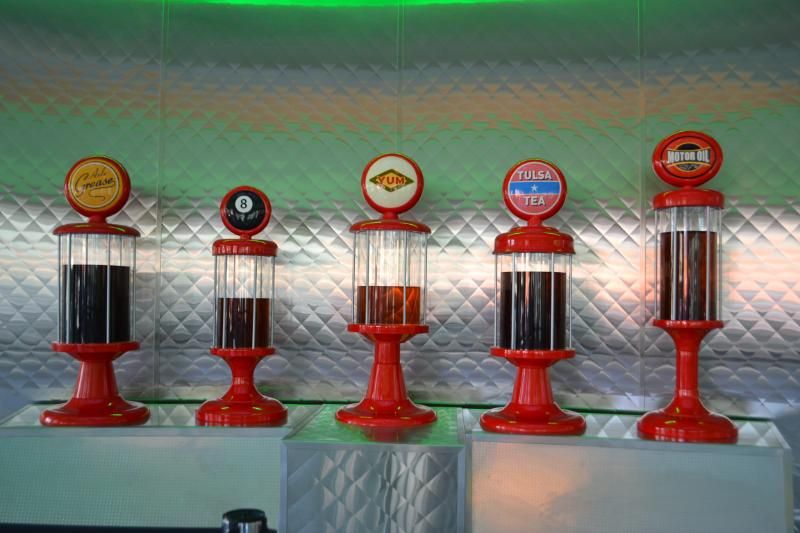 Mater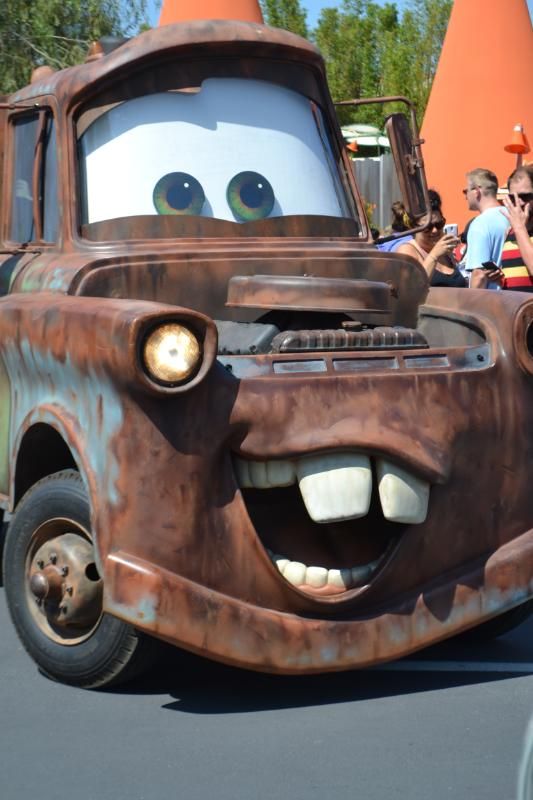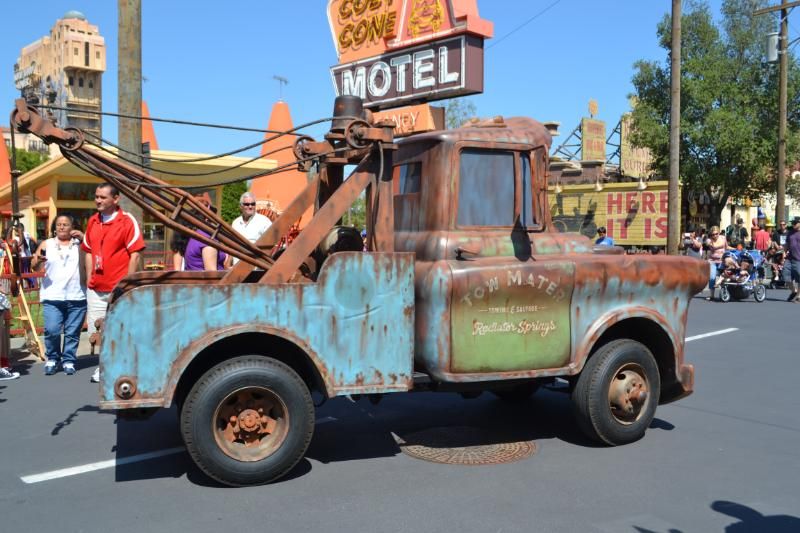 We met up with Megan, Daniel and Carter on Buena Vista Street. By now it was almost 7:30 and everyone was hungry. We left DCA and walked over to Downtown Disney and had dinner at Naples. Very good food. It was one of Larry's favorite meals on this trip. He's still raving about their chicken parm and their pizza! We had about a half hour wait, so Megan and I went over to World of Disney to look around, and I bought the kids some shirts and chocolate coins. After Megan gave Carter the surprise toy on the first day, he kept asking, "when will the next surprise show up?" He finally got another surprise when we gave him the chocolate coins!
After dinner, we went back to DCA and over to the Animation Building in Hollywood Land. Vanessa fell asleep in her stroller, so Larry sat with her while the rest of us went to Turtle Talk with Crush. Carter was excited before we entered the attraction and said he was going to ask Crush a question, but once we settled inside and Crush appeared, Carter announced he was "too shy" to ask a question. It was a cute interactive show, but Carter got restless toward the end. Guess he needs to be a bit older for this attraction.
Carter being "Robot Carter" while waiting to enter Turtle Talk.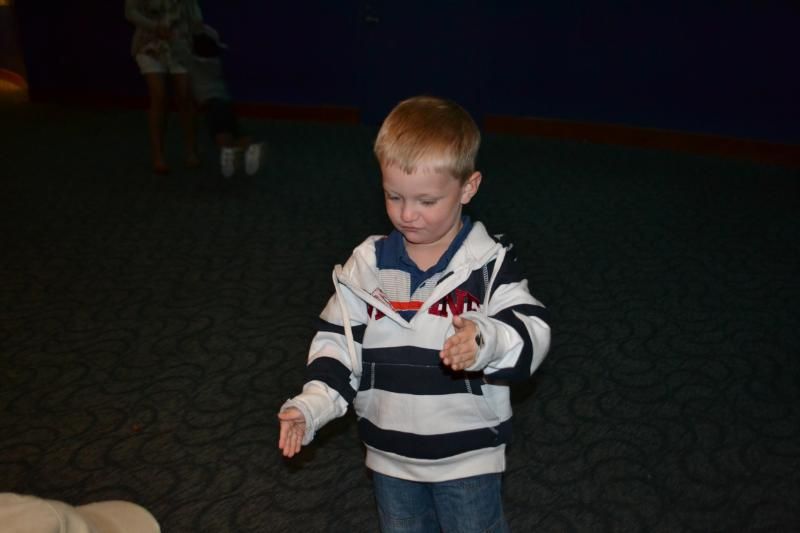 From there we went over to watch the Toy Story zoetrope. Fascinating, but I couldn't watch it for long without getting dizzy!
A stop at the Petting Zoo.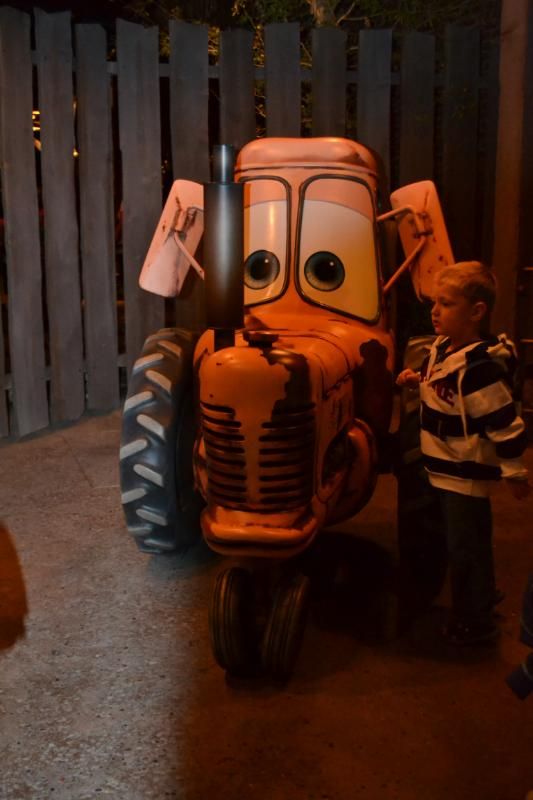 It was late and we were getting loopy. Ha! Ha!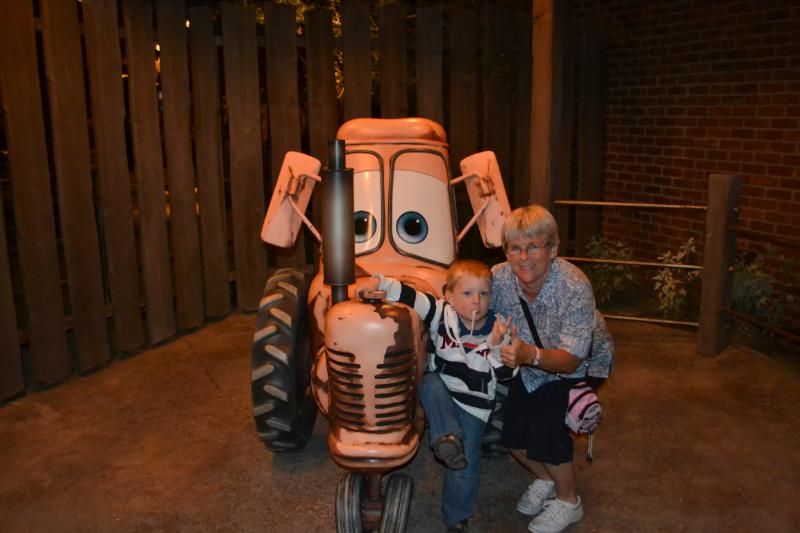 It was getting late and Vanessa was still asleep in her stroller, so Larry and I decided to take her back to the hotel while Megan and Daniel took Carter back to Cars Land. The fireworks had just started, so Larry and I watched them from the Plaza area then caught the shuttle back to the hotel.
Megan, Daniel and Carter stayed until park closing. One of the things they really wanted to do was ride Luigi's Flying Tires. The wait time was 60 minutes, but they said it was really closer to 45. They really enjoyed this ride! I know there have been mixed reviews of Luigi's, but they thought it was worth the wait and a lot of fun. Megan said the ride duration was quite short, though.
Carter really liked it, but when I asked him about the ride, he did inform me, "The tires don't fly, Gramma. They stay on the ground." Sometimes it's easy to forget how literal 3 and 4 year olds think!
I also know that, in order to move the tires, riders have to lean in the direction they want to go. When I asked Carter how to make the tires go, he said, "you just have to lean on mom or dad!"
It was past eleven as they headed out of Cars Land, but as they walked past Mater's Junkyard Jamboree they saw that the CM was still letting people on, so they walked right on and rode Mater one last time.
It was close to 11:30 by the time they got back to the hotel. Carter was one tired little guy, and he conked out as soon as his head hit the pillow.
The next day we were going to Huntington Beach for the morning, before heading home.
Oh, and how could I forget this picture of Carter as he came off RSR. It was the inspiration for the title of my trip report!
Two thumbs up for RSR!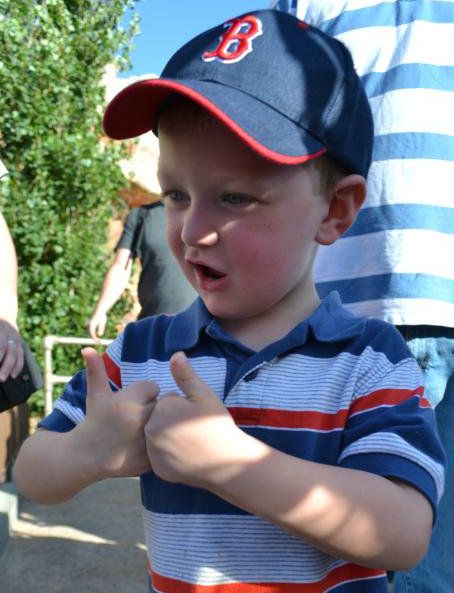 Saturday, June 23rd- Today was beach day!
It was also the last day of our vacation. We were showered and dressed and packing the cars by 8am.
Well, some of us were packing!
Someone was being silly.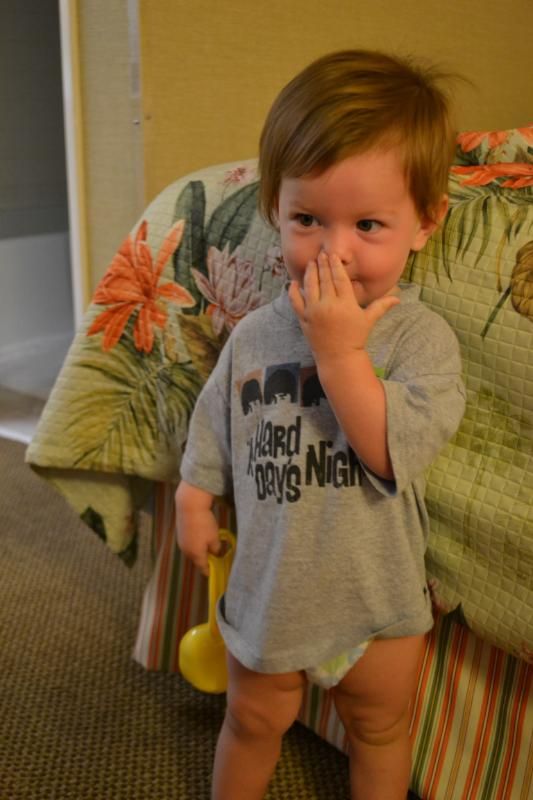 And looking at herself in the mirror.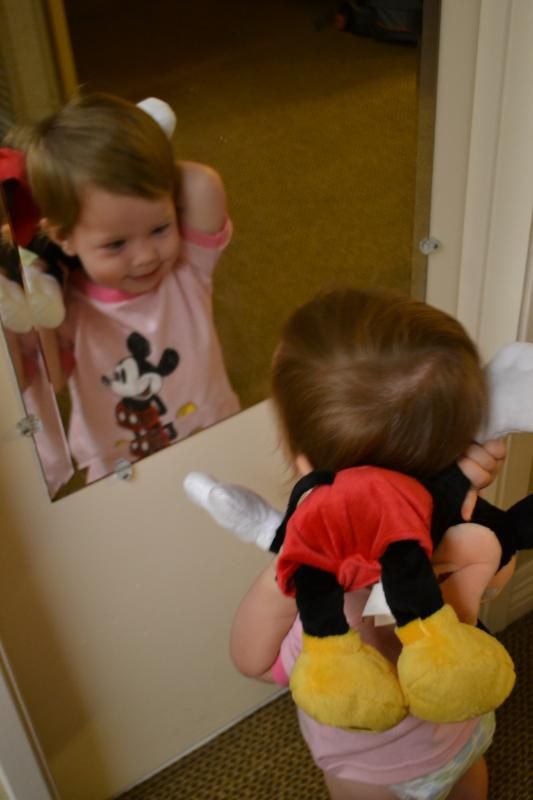 And someone else was being a train…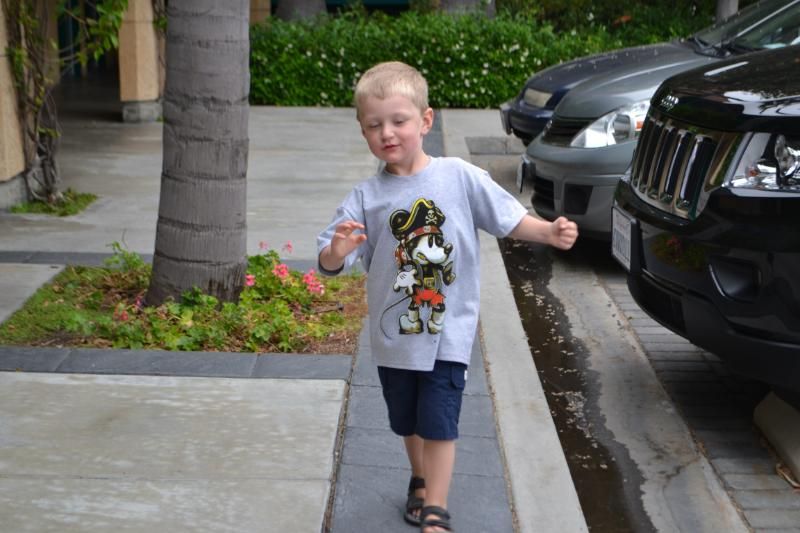 Chugga chugga choo choo!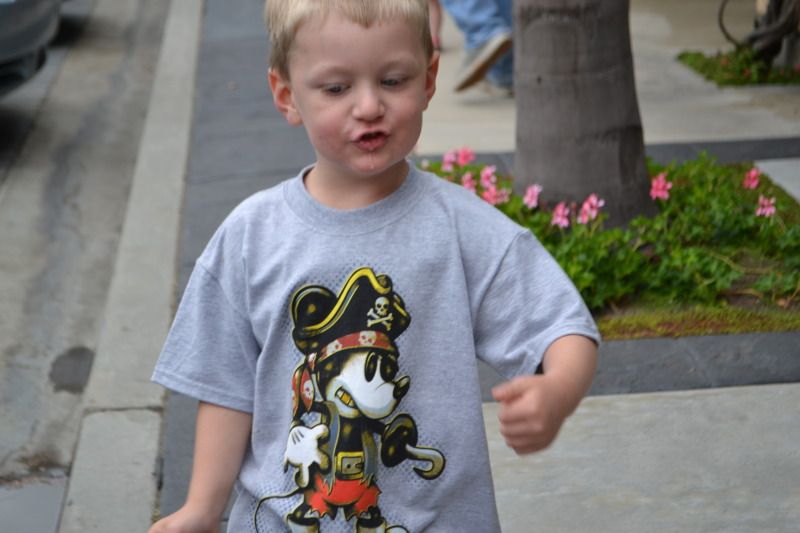 When we were finished packing (and playing!) we walked over to Denny's for breakfast.
Below is one of my favorite photos from our trip! Carter and I were discussing a photo on one of the restaurant's walls, when his baseball pancake arrived. He looked at it, picked it up and said, "'Excuse me, gramma, I have to kiss my pancake." I said, "Whaaaat?!?!?!" and grabbed my camera as he gave his pancake a second kiss. Funny little guy!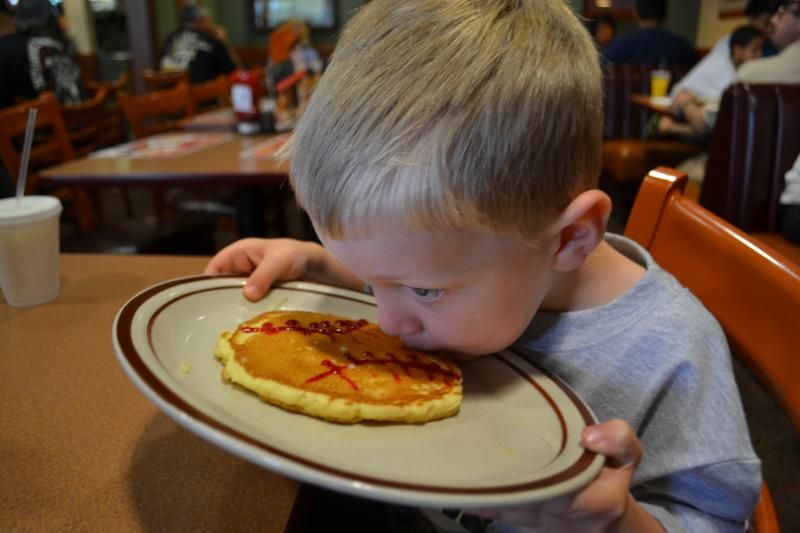 It was a little after 10am when we left the hotel and we were on Huntington Beach by 11:30. The kids had a great time splashing in the ocean and playing in the sand. The pails and beach toys that are in the photos are the ones I mentioned earlier, the surprises they received on our last night at the hotel.
Some pics of our sweet, beach grandbabies. Well, baby and pre-schooler!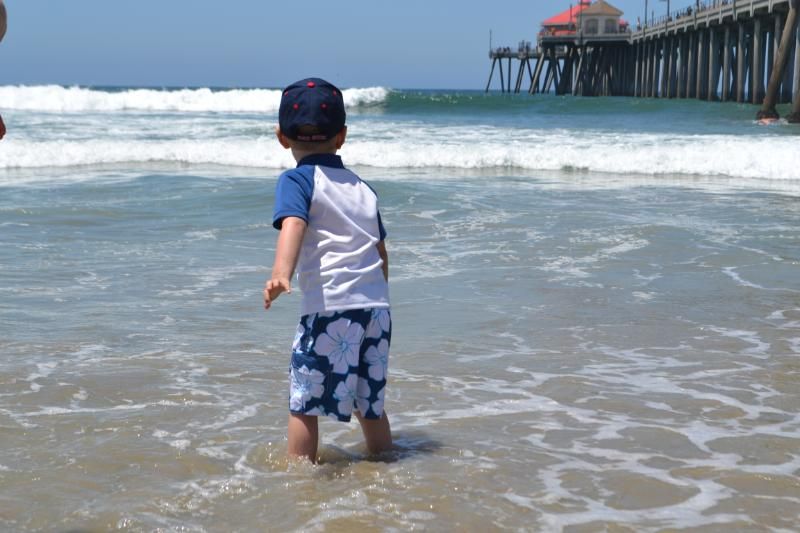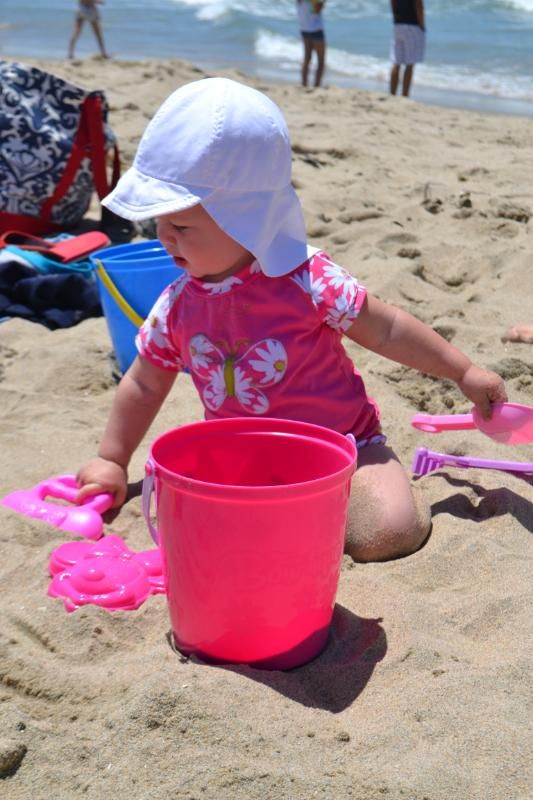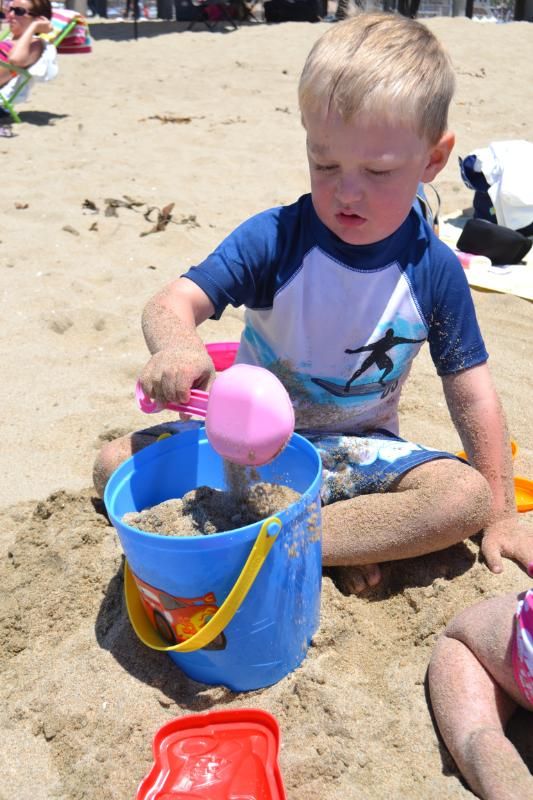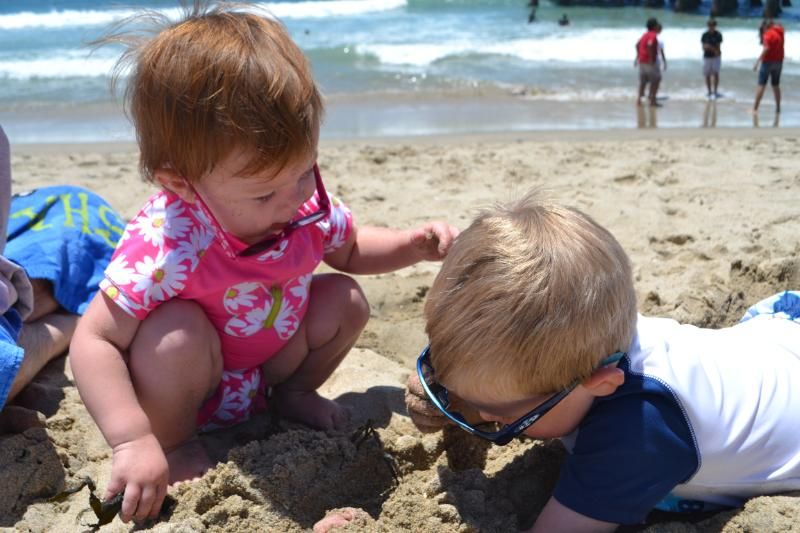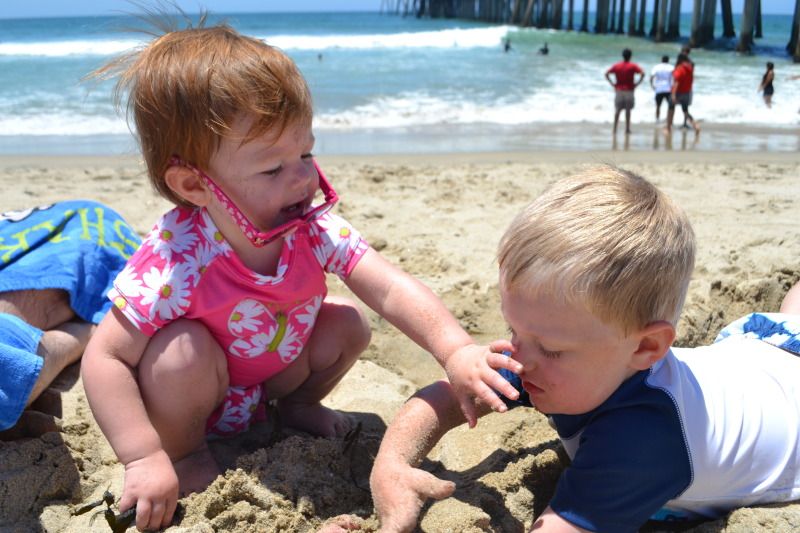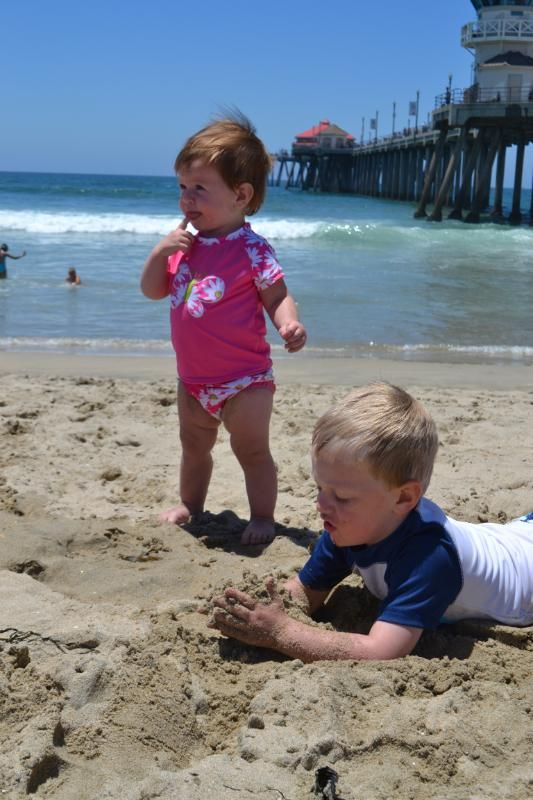 Honest, she did this herself! We did not put the bucket on her head!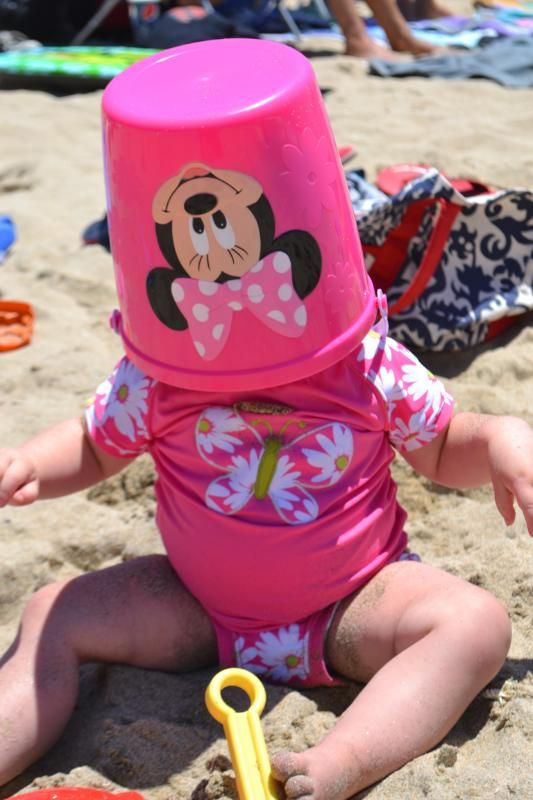 Funny girl!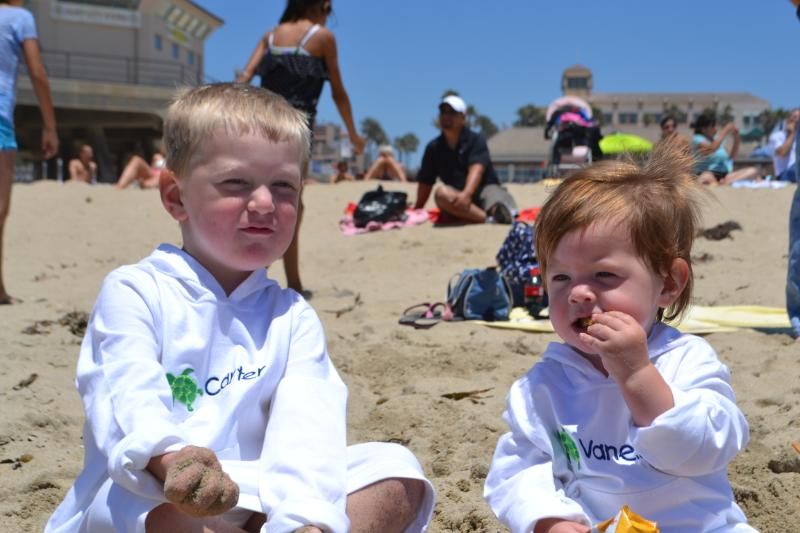 It was afternoon by the time we left the beach. We drove back to Anaheim and had a late lunch at Mimi's Cafe. Not sure why, but I only have one picture from Mimi's Cafe.
Vanessa waiting for our table to be ready.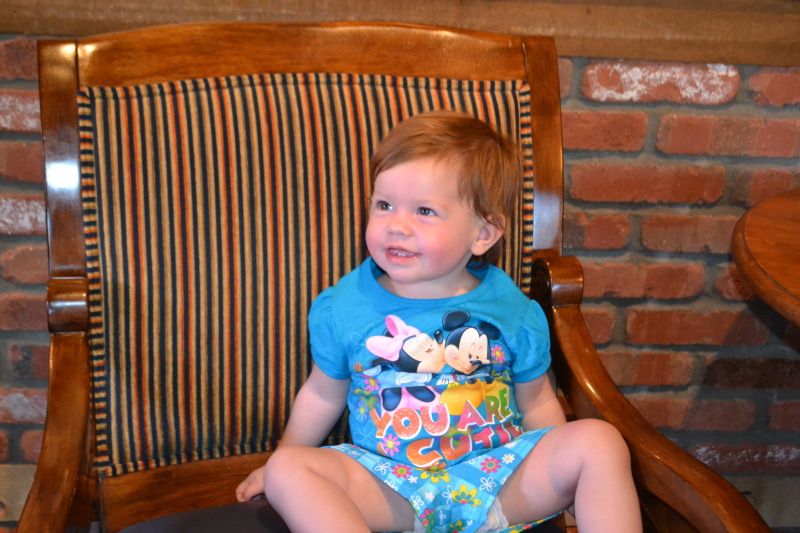 I remember it being a very relaxing lunch. It was a beautiful late, sunny afternoon, and we sat outside at a table under an awning that let the sun shine through. After lunch, we left Anaheim and drove home to Tucson. We were only on the road for maybe ten minutes when Megan sent me a text from their car saying that both kids were fast asleep in their car seats. We were all back home by 11pm.
We had an absolutely wonderful trip. Seeing the awe and joy on our grandson's face when he met Lightning McQueen and Mater, and the big smile on his face when he came running up the path after riding the Radiator Springs Racers was priceless! And seeing the wonder and fascination on the face of our granddaughter when she was in It's A Small World is something I will always treasure.
We've been home for a week and the grandkids are busy doing what kids do best…
…enjoying life!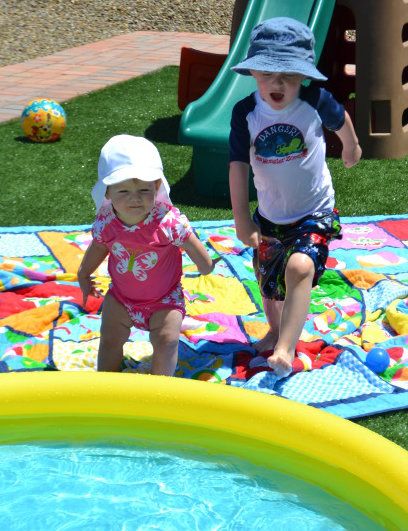 A few final thoughts on our Disneyland trip
We loved every minute of our vacation, but two days was not enough to see all we wanted to see at Disneyland. If I had thought it through better, I would have added on a day and gotten 3-day park hopper tickets instead of 2-day park hoppers. We never made it to ToonTown and I know both kids would have liked that area of the park.
I also would have revisited some of the attractions, especially the Disney Junior Stage Show (Carter would have enjoyed seeing it again) and It's A Small World, Vanessa's favorite attraction!
I am so happy that we got to see Cars Land and I'm glad we got to experience just about everything there. Carter got to ride the Radiator Springs Racers four times, Mater's Junkyard Jamboree three times and Luigi's Flying Tires once. He met Lightning McQueen, Mater and Red, and had some Disney magic come his way when a CM singled him out and gave him a special button from Mater. He is one lucky, little boy, that's for sure!
I asked him about the three rides and what he liked best about each one. His favorite thing about Mater's Junkyard Jamboree was "the whipping around part." His favorite thing about Luigi's Flying Tires was "the ball part," and his favorite thing about the Radiator Springs Racers was "the tractor tipping and Frank revving up." Carter also kept talking about the bridge that's high up on the mountain in the RSR ride. He kept saying how nobody could drive or walk over it. Funny that he even noticed that.
And when I asked him what he liked best about Cars Land, he said, "I liked it really a lot!"
And, here's the best part…we are planning another trip to Disneyland sometime next April or May! It'll be just the girls this time. Well, except for Carter! Our younger daughter was busy with dance and work and couldn't join us this time, so she is planning to come along next spring with Megan, me, Carter and Vanessa. The grandkids adore their Auntie, and I'm sure they'll love having her with us.
So, that's the end of my trip report. Thank you all so much for reading along!
When you take your trip to Disneyland, I hope you have a magical vacation! And when you return from your trip, I hope you can say, like Carter, "I liked it really a lot!"
Well, if you were wondering what our Disneyland trip was like, you must be satisfied by now! Wow, that was thorough! Thanks, Mom, for writing all this up so I didn't have to! It's a fantastic report, and I love all the pictures you included!
Thanks for reading and/or skimming!