As this post goes live, I will be at the starting line for my half-marathon. Wish me luck, and read on to find out all my secrets!
I have been wanting to link up to Dirty Secret Saturday for awhile now. It only comes once a month, so I didn't want to miss it again! I have a lot of things to get off my chest! Ready?
1. I gave my daughter peanut butter earlier than I thought she was supposed to have it. She just loved it so much! Turns out the experts have changed their minds on that one, and you don't have to wait until they are 3 anymore. Lucky me (and Vanessa, who hopefully will not have a peanut allergy)!
2. I am not very good at sympathizing, at least outwardly. If you want an awkward pat on the back and for me to make a joke to lighten the mood, I'm your girl. Need a shoulder to cry on? Mine's not that great.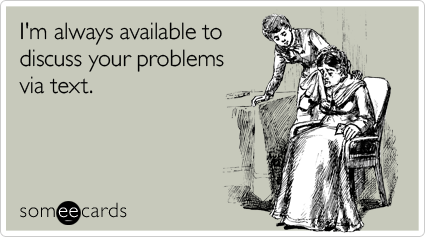 3. I don't like cartoons. Some of the Pixar movies are okay, but for the most part children's television can be watched by…my children.
4. I hate getting my kids food. Is that weird? I love being with my kids all day, playing with them, being silly, etc, but when meal time and snack time comes around, I just wish they could get their own.
Source
5. I don't love children. Yeah, I said it. I love my own children with a love that is beyond this world, but I don't really like children in general. I don't like to babysit, I won't change other kids' diapers, and yeah, I just like my own kids. Hey, the topic was dirty secrets right? I'm not proud of it! I love children in theory. In other words, I hate to think that there are children in the world who suffer, and if I could donate a ton of money, it would be to a charity that helps children in need. And if I could save a child from suffering by taking him or her into my home and raising that child myself, I would do it. But as far as the neighborhood kids hanging around…yeah no.
6. About 1-2 days each month I get really depressed and find it hard to get up off the couch. Like it's physically and emotionally too difficult to move. Luckily there are 26-30 days in the month where I don't feel that way!
7. I HATE the sound of people eating. Especially crunchy things. Especially chips. I have to remove myself from the situation to prevent a complete meltdown. It is like nails on a chalkboard for me, practically causing tears and a panic attack.
8. I HATE my body. You know how some women say they love their imperfections, stretch marks, etc because it reminds them of the beauty of childbirth? Not this girl. I hate every little thing that isn't perfect about my body (and that's most things), and I analyze everyone I come across (is she overweight, is she bigger/smaller than me, etc). I hate the weight I have left over from having babies, and I absolutely, honestly feel like if I could get to my goal weight, everything in my life would be okay. You know how they say that being skinny doesn't solve everything? Well I truly believe that for me it would.
9. I'm not good at sharing. I will if I have to, and that doesn't apply to donating. I love to give stuff away. But if I plan on keeping something, I don't like to share it. I feel like I should have my stuff, you should have your stuff, and let's keep it that way.
10. I really hate the saying (paraphrasing) that a good mom has a sticky floor, piles of laundry, etc, and happy children. I like to keep my house clean, and that saying offends me because it implies that my children are not happy. Don't hate on us cleaners!
Wow, it got pretty real up in there. Let's just stop there! I hope you will still read my blog, even though now you know what a terrible person I am! Dirty Secret Saturday, you really bring out the truth!