In April, I got to attend the Sits Girls' Bloggy Boot Camp in Phoenix. And I am finally, finally getting around to writing down my thoughts from the event!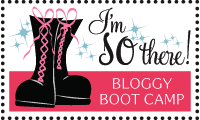 If you have any intentions of making money from your blog, whether that means a little supplemental income or a living, this is the blog conference to attend. That was the focus of the two day event, as speaker after speaker shared their knowledge with us. Topics covered included: writing sponsored posts, pitching companies, branding, hiring help, legal advice, analytics, and so on. In addition to the speakers, we had time for networking, some fantastic catered meals, and a cocktail party to end both days.
The information shared over the two days was overwhelming, and I came home from both sessions with tons of thoughts to unload on my husband. Now going through my notes I can see the major points that struck a chord with me, and so I will share those with you now.
Speaker: Missy Mahar
Always respond to PR emails even if the opportunity doesn't apply to you. Tell them that you don't currently have any babies, but hey you do have a 2-year-old and a 5-year-old.
Or at least tell them to contact again in the future with other opportunities.
Speaker: Kim Byers
Do what you love.
Have a plan.
Be great at (at least) one thing. [This statement stressed me out at first, but resulted in an epiphany about the focus of my blog. I wrote about it here.]
"If you're not nervous with a quote [when pitching a company], you're not asking for enough."
Identify companies that directly relate to your blog topics, follow them on social media, then pitch to them.
Stand out in a product campaign- give more than the company has asked for.
Speaker: Gigi Ross
She was my favorite speaker of the conference, because she covered exactly the topic I needed help with (writing killer sponsored posts), and she had lots of great ideas that I could start to implement immediately.
Entertain your reader while informing them. Sponsored posts do not have to be boring or a departure from your regular content.
Integrate sponsored content seamlessly with your regular content. [Now I try to see if sponsored opportunities can be paired with an item on my bucket list, so that I can write about the product/company while using the opportunity to complete a goal. See this post as an example.]
You should be refusing more offers than you accept. [Something that's hard to do when you first start getting paid offers!]
Be selective. She talked about how she turned down an amazing offer with a fast food company because she had recently been writing about her commitment to eating healthy and knew that the inconsistency wouldn't fly with her readers. Uphold your reputation and credibility.
Be different and creative with your post. Your stories should shine through. Make it uniquely yours.
Speakers: Meagan Francis and Sarah Powers
Hiring help is a great option to free up your time so that you can focus on the big picture, moving to the next step, etc.
You don't have to hire someone full time. In this partnership, Sarah worked for Meagan about 7 hours a week. It earned Sarah some extra income while not taking over her life, and it freed Meagan up from a lot of detail work so she could work on "big picture" stuff.
Tiffany chimed in with the idea of hiring a mother's helper (instead of hiring someone to help with your blog work, hire someone to watch your kids so you can focus on your blog work). She said that if you figure the work that you will put in can result in you earning $40 an hour, then pay your helper $10 an hour. Having someone come in to watch the kids and/or do a little light housework for a couple of hours a week can be a huge help!
Speaker: Casey Peterson
Pay attention to your most popular content and use that to guide your future content. Reshare popular older posts.
Google author rank is going to eventually replace page rank. Make sure you have authorship.
Keep your labels/tags/keywords to 3-5 per post, and make sure to use your top keyword in your title or first paragraph.
Speaker: Lynette Young
Lynette gave so many great tips on Google Plus that I can't narrow it down to just a few bullet points at the moment. I do, however, plan to do my next "Nitty Gritty" series on Google Plus, so I will cover this in more detail soon!
Speakers: Tiffany Romero and Danielle Smith
This was the last talk of the conference, and it was the one that had me jumping up and shouting "yes!" (in my head).
"If it's not a 'hell yeah!' it's a 'no.'"
"I don't owe anybody a 'yes' or an excuse why."
"I cannot be a stellar mom at the exact same time I'm being stellar at my business." [In other words, we can do both, but we'll go crazy trying to do everything at once.]
"Luck is the intersection of hard work and opportunity."
A few other thoughts about the conference:
1. There were several talks about getting a job in social media, corporate America, speaking at conferences, etc, which had me quoting Mitch Hedberg in my head:
"When you're in Hollywood and you're a comedian, everybody wants you to do things besides comedy. They say, 'OK, you're a stand-up comedian – can you act? Can you write? Write us a script.' It's as though if I were a cook and I worked my ass off to become a good cook, and they said, 'All right you're a cook – can you farm?"
Those talks had me, at first, thinking 'can we please get back to actually blogging, since we are bloggers?' But then I realized that although I'm not looking for a different or full-time job right now, the skills I'm acquiring through writing and managing a blog are viable, relevant skills for such potential future opportunities.
2. At one point near the end of the conference, someone asked us to raise our hands if our spouse "loves what you do" (meaning they like that we spend time blogging and support us in that endeavor). Without hesitation, I raised my hand high and was surprised to see very few other hands. I'm lucky that my husband is such a strong supporter of basically everything that I do. He has more faith in me than I do that I can succeed at whatever I attempt.
3. There were several opportunities for networking with no structure, such as at the cocktail party. I would not call myself a shy person, but I'm not particularly bold either. Basically I love to talk to people, but I'm not usually the one to start up the conversation. But put into this situation where I, for all intents and purposes, did not know anybody, I found that I rose to the occasion! You basically have to act like you belong. It may look like other people know each other, but that's not necessarily the case. After getting a drink and plate of food, I just joined a table that had an open spot. Confidence is key! Later on, I found myself wandering around with a drink in hand (soda, because I'm pregnant, and Mormon), and I saw another girl standing alone, and I approached her, read her nametag, and asked her about her blog. That doesn't sound like such a big deal now, but I was proud of myself anyway. And it turns out that she was Michelle from Fun on a Dime, who lives in my town, went to the church I go to now (before she moved across town), and knows some of the same people!
So that's a lot of information, but hopefully there's something useful in there! I highly recommend Bloggy Boot Camp, so check to see if they are coming to a city near you! Thanks Sits Girls!