Leg Day. Two of the most dreaded words in any exerciser's vocabulary. Actually, it's the day AFTER Leg Day (when stairs are a new form of torture) that is to be feared! But it's a good kind of hurt! And there's no need for fancy equipment. You can get an excellent at home leg workout in your own living room, with just some hand weights and wall space (yep, wall sits ahead!).
This workout is not for the weak. Make sure to pace yourself, whether you're a beginner or more advanced. Your legs may be shaking by the end.
As long as you are cleared for workouts, have some room in your living room, and have some upbeat music blaring to motivate you, Leg Day is nothing to fear. In fact, it's something to conquer. Let's get started!
At Home Leg Workout
Go through the entire routine one time. Beginners feel free to take rest breaks after every three exercises or so. The rest of you beasts will kick this workout to the curb, no doubt. Be sure to have some hand weights available for some of the weighted moves. Use whatever weight you feel will challenge you but allow you to complete the number of reps. Here we go!
20 Calf Raises (feet parallel)
20 Dead Lifts (weighted)
20 Squats with an Overhead Press (weighted)
20 Goblet Squats
20 Jump Squats
50 Jumping Jacks
20 Squats (no weight)
60 Second Wall Sit
30 Lunges
40 Calf Raises (feet turned out)
50 High Knees
40 Sumo Squats
30 Reverse Lunges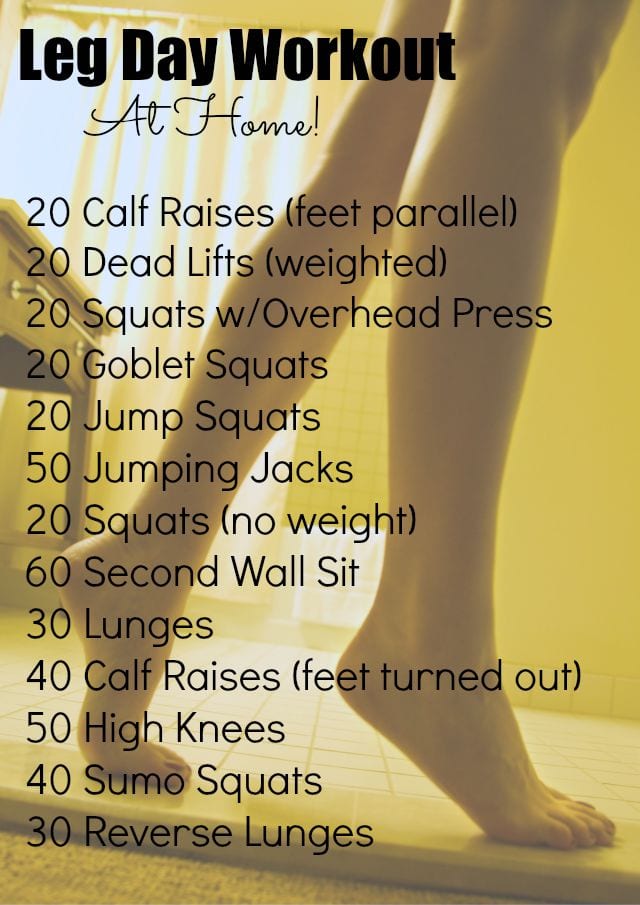 Did you make it? That's the spirit! You are on your way to some fabulous looking legs. And look on the bright side- since you didn't leave your house, you can crawl to your couch and watch some Gilmore Girls while you recover.
Tomorrow, rest your legs and do my ab workout! And make sure you check out the rest of my "Workout At Home" series. Let me know how it goes!
Baby Steps to a Better You: Day 7
It's Day 7 of "Baby Steps to a Better You," and since today is another home workout, today's challenge is another exercise! Last time I had you do 10 pushups. Today we are going to add on, so today I want you to do 10 pushups and 10 full sit-ups.
If you did the full leg workout from today's post, then this will be a nice little extra arm-and-core burn for ya! If you don't have time for the full workout, then this will give you a little mini workout and get your energy going!
In need of more quick mom workouts? Check out my Workouts Pinterest board!